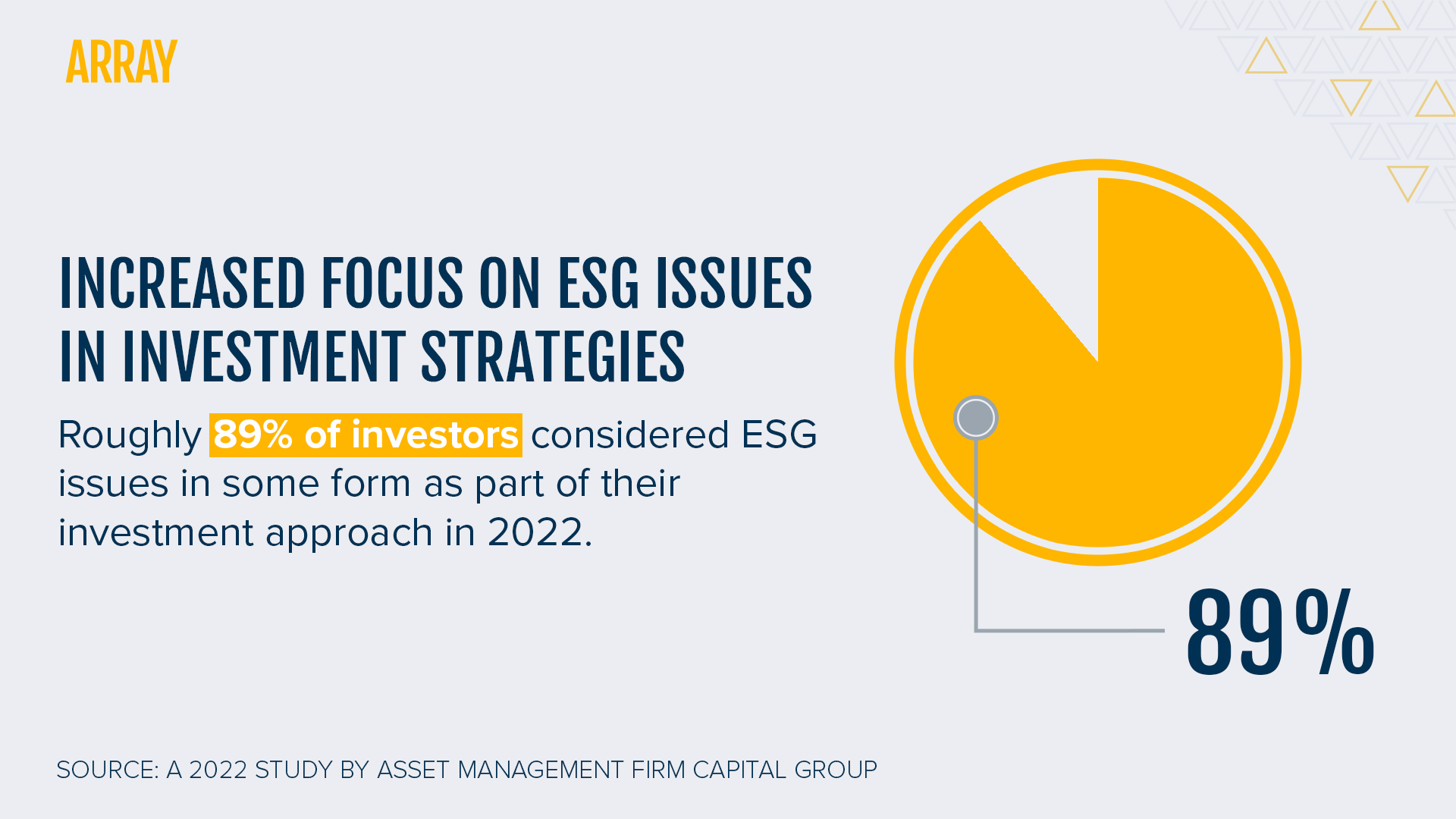 Like business leaders, investors interested in companies that prioritize environmental, social, and governance (ESG) initiatives have lingering questions. So let's talk about some ESG questions on the mind of investors and how Array's ESG practices keep us generating energy with integrity.
ESG initiatives are based on values from within the company. These companies act conscientiously to improve the environment, their employees' lives, and how they run their organizations.
Consumers and investors worldwide are paying more attention to ESG factors when making investment decisions. A 2022 Capital Group study revealed that approximately 89% of investors integrated ESG issues into their investment approach. Even oil and gas companies are investing in renewables. British Petroleum's ownership stake in Lightsource, a solar and wind developer, is but one of many signs that the energy transition is happening.
So, here are some of the common ESG questions investors ask:
How can I trust that a company follows ESG practices if there's no universal standard and it's all self-reported?
'Positive change' in governance and hiring can be subjective, so how can an investor evaluate positive change?
Is investing in ESG companies risky because the funds won't be in diverse funds/portfolios?
How can I trust that a company follows ESG practices if there's no universal standard and it's all self-reported?
First, consider what third-party reporting agencies say about the ESG company you're interested in investing in. Start with the Global Reporting Initiative (GRI), the Sustainability Accounting Standards Board (SASB), and the Task Force on Climate-Related Financial Disclosures (TCFD) to triangulate the information they've each gathered because they all measure slightly different things related to ESG.
Second, look at the ESG initiatives and reporting the company offers on its website. Does the company operationalize around ESG and consistently report on it?
At Array, we regularly provide a forum to answer ESG-related questions. Investors—and potential investors—can dial into quarterly earnings calls, which are open to the public. So, if investors have questions and can't find the information they're looking for, they can ask us directly.
'Positive change' in governance and hiring can be subjective, so how can an investor evaluate positive change?
First, think of "positive change" as "fair and equitable change."
For example, increased hiring of diverse candidates and under-represented groups is just good business. The company not only recruits people from different backgrounds and with varied talents but also gains diversity of thought across the organization.
Another place where fair and equitable comes into play is the pay gap between men and women. Companies can address this head-on to drive retention and effective succession planning.
Diversity isn't about checking a box—it requires a discipline that an organization might not be exercising. A company that starts with a diverse slate of candidates increases the odds of a diverse employee population. With a diverse candidate slate for every position, your company creates the opportunity to hire the most qualified person for the role.
Ultimately, shareholders want companies to hire and retain the best person for each position. Someone well matched for a position will get results and add value to the company. At Array, we are ensuring that we start with diverse candidate slates from the time that we open a role, so that we have a better chance of hiring.
Will investing in ESG funds perform at similar rates as non-ESG funds?
Doing well while doing good is absolutely possible. When the NYU Stern Center for Sustainable Business and Rockefeller Asset Management examined the relationship between ESG and financial performance in more than 1,000 research papers published between 2015 and 2020, they found "a positive relationship between ESG and financial performance for 58% of the . . . studies."
Being aware of the environment and suppliers, hiring diverse people, and having an independent board are all factors that make a company a more solid investment. They show that the organization is well run and mindful.
Investors increasingly want to invest in companies that report ESG data, so transparency is key. Companies that provide transparency come out ahead of companies whose ESG actions are unclear.
ESG should not pit profit against doing the right thing as a company. It is possible—and proven—that companies can do well in your financial portfolio while positively contributing to the environment around them, the communities they serve, and the employees who help make it all happen.
No investment is ever a guarantee. Investments must be thought of as long-term commitments, not as quick wins. Investing is about aligning with your values and investing long term in the planet.
How Array is achieving its ESG goals
At Array, we think of ESG as the way we run our business. We operationalize around the goals we put in place for 2025 and have working groups for each goal. We're not working simply to get better scores or to put out a report—we want to be better as a company.
We list our policies on our website, and all our suppliers sign a code of conduct that speaks to antislavery, anti-bribery, and anti-child labor. We align ourselves with like-minded suppliers that are committed to making the same changes we do.
Many people choose to work at Array because they want to be in the renewable space, and ESG and renewables go hand-in-hand. This purpose-driven culture attracts employees who not only want to do great work, but want to change the world while doing it.
Between our 2021 diversity baseline and 2025, we want to increase female representation in our workforce by 10%, racial and ethnic minority representation in our nonexecutive management by 10%, and female representation on our board by 22%. Impressively, we have already reached our board diversity goals by adding another woman, Tracy Jokinen, to our board of directors.
Perhaps the most rewarding and the most challenging is that the change we are driving through ESG requires a cross-functional team that works towards shared goals. When we published our first full-year 2020 report, we all rejoiced because everyone was so invested. It has been having this shared vision and a culture of continuous improvement that continue to drive us forward, getting better each year.
As a newly public company, it felt good to get an ESG report out within a year (and some change) of going public, but it was an incredibly heavy lift. It helped us grow exponentially as a company, and it was incredible for everyone to rally behind and celebrate it. Now that we are working on our third one, there is a sense of confidence around what we are tackling, but also a willingness to bring forward new ideas to drive progress.
As a company that is deeply engrained in the energy transition and renewable energy, we continue to look to the future, despite the many challenges ahead. At Array Technologies, it is in our DNA to generate energy with integrity for a sustainable world.
Read more on our Array Technologies investors relations page.
SIGN UP TO BE NOTIFIED WHEN OUR 2022 ESG REPORT IS AVAILABLE
Click here for other articles by this author