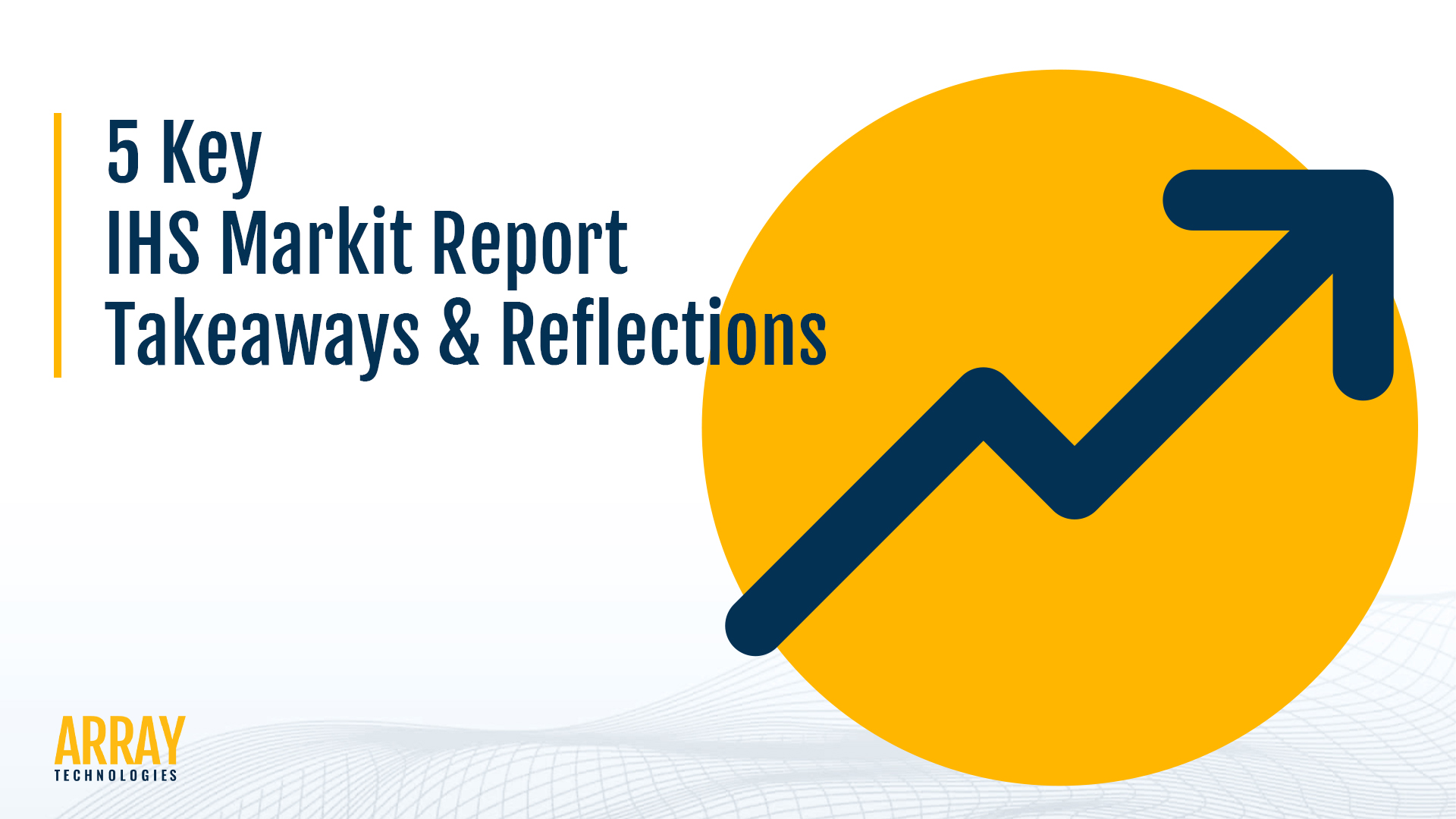 At Array Technologies, we love to soak up industry news and one of the best sources of solar industry news comes from IHS Markit in their annual Global PV Tracker Market Report. We see it as an important tool for keeping up with solar market trends, and this year's report has left us reflecting on the industry and feeling inspired by the growth and trajectory of the industry.
To save you the time of sorting through the comprehensive intel available, here are a few interesting things I took away from the IHS 2021 Global PV Tracker Market Report.
1. Array Technologies' rising market share and growth
Let's start here. It's exciting to see Array has shown a 3% year-over-year increase in market share. That's the largest year-on-year increase in shipment volumes across the impressive (and vastly expanding) network of players in the PV tracker industry. It's even more incredible when you consider the supply chain challenges that are reverberating all over the world.
The demand for trackers and utility-scale solar projects has been incredible in the last 18 months. The volume of centralized trackers increased 45% in 2020 compared to the previous year. This was driven mainly by shipments from Array — In fact, we delivered 90% of the centralized shipments on a global scale in 2020.
Array also saw a 5% gain in the Americas, which is currently the most mature market with a whopping 68% of global 2020 tracker shipments.
We're also proud to be a major player in the rapid expansion of utility-scale solar development across Australia. This and other areas in the Asia Pacific region account for 26% (the third-largest share) of worldwide tracker installations within the forecast period.
2. Material costs (finally) in the rearview and looking to the future
At the risk of eliciting a groan for typing up the most understated (and over-written) sentence of the year…2020 was a tough one. No industry or sector was completely untouched in one form or another from the global pandemic.
The PV solar business was no exception. Some of the most significant challenges included the surge in steel and freight prices, with a spike to more than double what they were in Q4 2020. Steel and aluminum commodities pricing climbed, and supply chains were challenged with demand and fluctuating costs.
It's a complex problem and many elements contributed to it. But one major factor was the demand from consumers for more manufactured goods over services during the height of the pandemic, even while production capacity was also reduced due to pandemic restrictions.
With 2020 behind us, we recognize it's been a challenging time and we've adapted to meet customer needs. The good news is that prices are projected to normalize over the next several years.
Some of this will be thanks to supply chain stabilization and some will be thanks to continued module power output improvements and tracker technology developments over the next few years. Additionally, we continue to diversify our supply chain to meet global demand.
3. PV tracker intelligence will boost PV solar fiscal advantages
Tracker technology improvements are something we're working on every day. One of the ways we boost tracker tech intel is through our research and development center. You can read more about the collaboration and innovation happening at Array's PV Tech Research and Development Center. Having our own solar site for customers and our own engineers helps us drive innovation every day.
The IHS report noted Array's operation of dedicated PV solar training facilities on a global scale. We work with our customers and partners to solve industry challenges at the research center to drive improvements in installation, operation, and maintenance and overall solar advancement.
The report clearly spells out the importance of pushing forward for the best ideas in tracker technology. We pride ourselves on doing just that. With advancements like our industry-leading wind stability design for the DuraTrackⓇ Hz v3 and SmarTrack, our backtracking and diffuse lighting adaptability software, Array is part of making the solar tracking industry more practical and financially rewarding.
4. The CAPEX/OPEX discussion
Another big takeaway from the report was a huge financial data point that has been coming to light and confirmed repeatedly by independent sources. This is on the important consideration between initial tracker cost, installation, and long-term operation and maintenance costs.
The IHS report states that "tracker products that have a higher cost may still enable developers to achieve savings on installation and maintenance versus other tracker products."
It's a big one that solar developers and site owners understand and are seeing payoff already. Third-party consulting and engineering firm RINA conducted a study on how investing in quality CAPEX can mean steadier, lower OPEX over time. You can read an executive summary of the comparative case study on PV OPEX vs. CAPEX and download the full report here. Like the old saying goes, you do get what you pay for and our customers continue to enjoy a lower cost of ownership with an Array system.
5. Lead with integrity, close with integrity
At Array, we keep each other honest. Our engineers conduct research, and we stay open to customer and partner input. We don't assume we know it all. Our teams communicate openly with each other. We only publish claims we can stand by with confidence and integrity. That includes everyone from early product development all the way through to sales.
We take pride in our industry knowledge and don't exaggerate our capabilities. We make sure we know the facts so that our customers can make the most informed decisions. From there, we make doubly sure through third-party validation and confirmation, and we keep pushing forward.
I am excited to see Array's position in the report from IHS. Working collaboratively, consistently self-evaluating as a company, and staying honest are what allows us to cultivate so much more significant growth for our company, our investors, and the solar industry as a whole.
Click here for other articles by this author