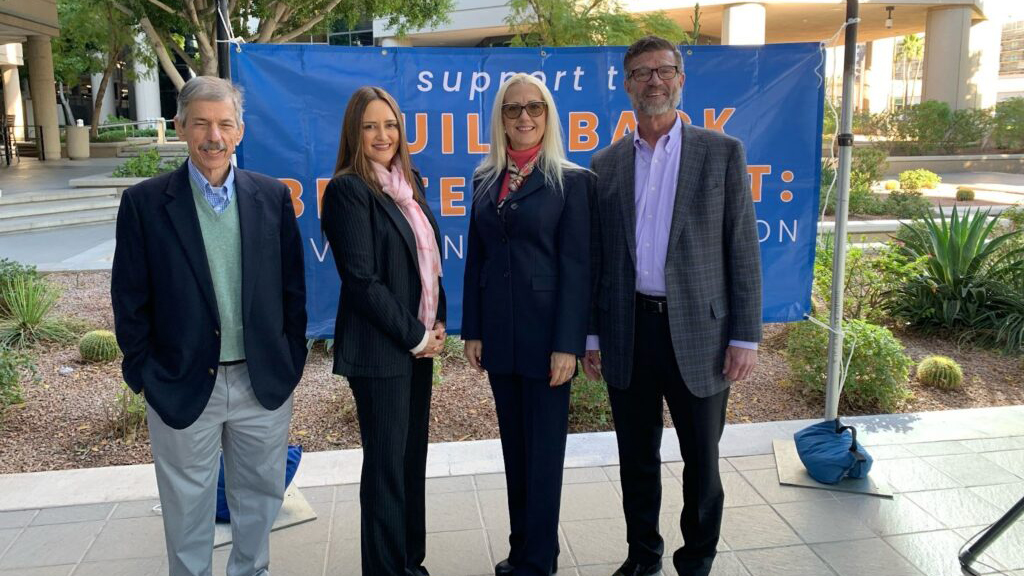 Recently, Arizona business leaders, including Erica Brinker, Array's Chief Commercial Officer, gathered to rally local legislatures (U.S. Senators Kyrsten Sinema and Mark Kelly) behind the Build Back Better Act (BBA). Passing this act would equate to clean energy investments of more than $500 million and actively combat the climate crisis to reduce carbon pollution by at least 50% by 2030. Erica Brinker represented utility-scale solar as she urges the federal government to focus on clean energy innovation, in turn stimulating economic growth. 
Click here to read about the Arizona Technology Council press conference, view the clip below to watch the live event, or scroll down to read Erica Brinker's remarks:
Remarks from Erica Brinker:
My name is Erica Brinker and I am the Chief Marketing Officer and Head of ESG at Array Technologies. We are not only excited to represent utility-scale solar, but also our growing presence in Arizona.  
Array Technologies is the world's largest utility-scale solar tracker technology company. We were founded more than 30 years ago as a company focused on building hardware and software technology engineered to enhance utility-scale solar productivity. We have operations in 7 cities around the world and serve customers in 51 countries. 
Just last year, we went public, listing on the NASDAQ and have continued building out our corporate presence in the greater Phoenix area, taking advantage of Arizona's most abundant natural resource – sunshine.  
Earlier this year, we announced the launch of the Array Technology Research Center located in Tempe. At the Center we test the latest in solar tracking advancements. Our growth has been so explosive that we are even moving into larger offices to accommodate more employees AND to support the incredible demand by our customers. 
While we are extremely proud to be part of the clean energy revolution, we also think this is just good business and an industry worth investing in. The state's support for businesses and its communities is a major factor to why we have chosen to expand our presence here in the state.  
Array Technologies continues to invest in Arizona and that is one of the reasons I am so excited to discuss what the Build Back Better Act means to companies and employees like ours.  
Today, more than 300 companies and more than 7,300 people already have jobs in the solar power industry in the state of Arizona.   
If passed, the Build Back Better Act, will create incentives to encourage businesses to enter or support the solar industry, increasing the number of high paying and living wage jobs in Arizona. 
We already have an idea of the impact that this legislation could have. Since a similar support was enacted in 2006, called the ITC, the U.S. solar industry has grown by more than 10,000% – creating hundreds of thousands of jobs, investing billions of dollars in the U.S. economy in the process.  
The Build Back Better Act includes more than $500 billion in investments for clean energy and environmental justice – including over $300 billion to expand and extend clean energy tax incentives.  
These tax incentives have the power to unleash the clean energy economy utilizing a proven policy to ensure that America's solar development continues to shine.  
From our point of view, a vibrant solar industry is a bloodline for emerging clean energy sources including new technologies like battery storage. 
The policies in the Build Back Better Act provide a strong signal to the world that the United States intends to be a leader when it comes to diversifying our energy sources and supporting clean energy. And Arizona is perfectly poised to capitalize on investments in the solar industry. 
Thank you so much for your time today and I look forward to continuing the conversation about how we can work together to support the clean energy industry and, in turn, create more economic opportunity in Arizona. We don't see the Build Back Better Act as a political matter. It's just good business. Let's work together to do well while also doing good. 
Click here for other articles by this author