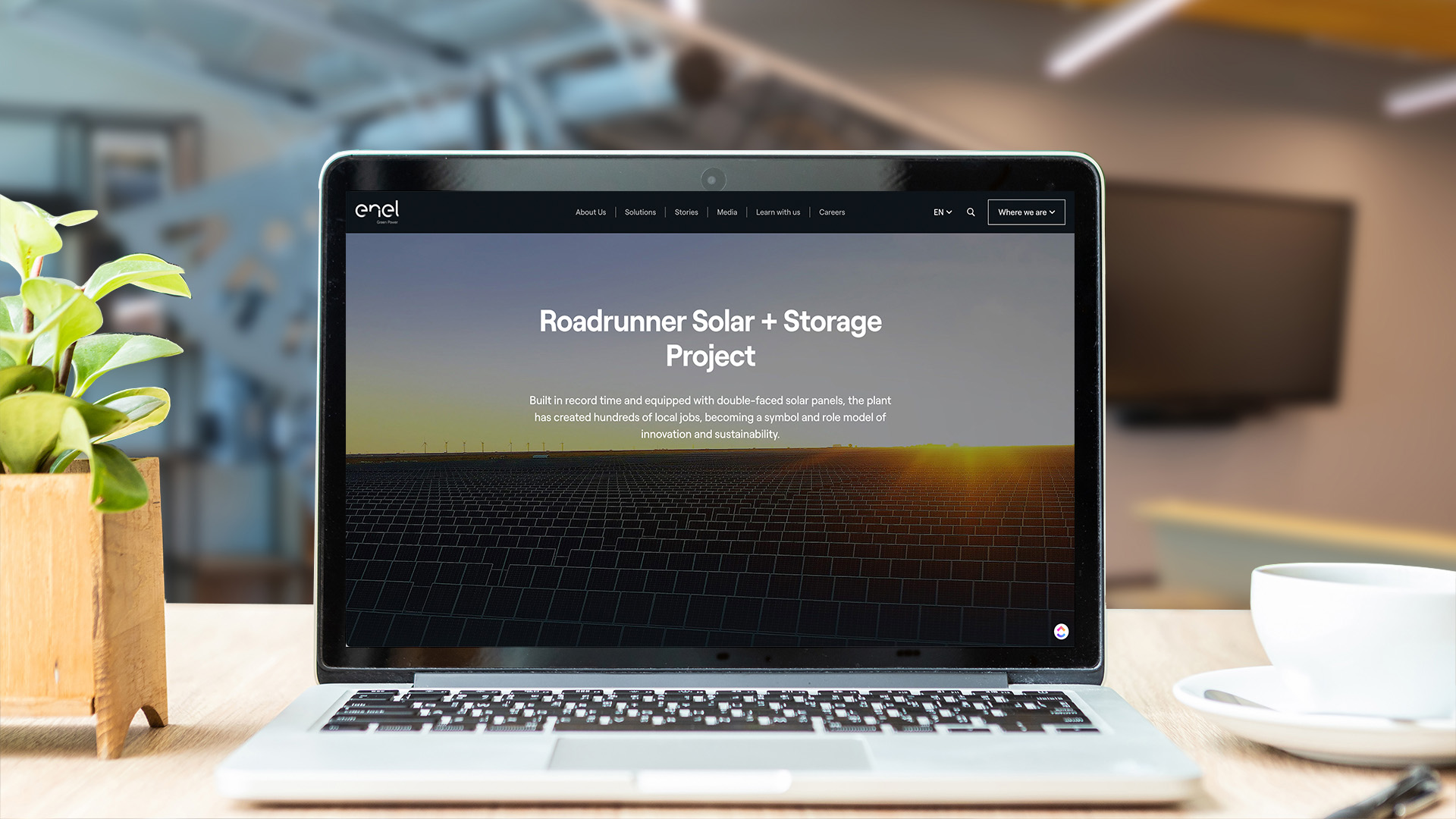 With more than 1.2 million solar panels, Texas's Roadrunner solar plant is one of the largest of its kind in the world. In fact, by the time its second phase of construction is complete later this year, it will be the largest operational solar farm in Texas.
The plant has created hundreds of local jobs and become a beacon in the march toward innovation and sustainability, promising to generate approximately 1.2 TW/h of solar energy annually. To put it in perspective, that's enough to power more than 100,000 U.S. homes. And it's driven by Array Technologies.
Enel Green Power, the operator of the Roadrunner solar farm, selected Array DuraTrack® single-axis solar trackers for their utility-scale photovoltaic solar plant, helping the plant's incredible number of bifacial solar panels live up to their expansive power-producing potential.
More About Roadrunner
When complete, the Roadrunner solar farm will sprawl over an incredible 2,770 acres and have an oversized impact on our shared environment by avoiding the emission of over 800,000 tons of CO2 per year.
And the energy produced at Roadrunner is already set to be leveraged by some true titans of the food service and cleaning product industries, with Mondelez International signing on for a 12-year, 65MW power purchase agreement and The Clorox Company for a 12-year, 70MW power purchase agreement.
For Mondelez, this energy will be enough to produce half of the Oreos produced in the U.S. annually, and Clorox's PPA represents around half of the company's 100% renewable energy goal, which it originally hoped to achieve by 2025.
The project is also driving growth "at home," with Enel Green creating local jobs, making investments in local education and emergency response initiatives, and generating approximately $60 million in new tax revenue over the life of the project.
The Upton County, Texas project was also integrated into an operating wind project area, meaning that the land is contributing to the world's clean energy efforts in more ways than one. This integration is a model for the future of such projects.
Add it all up, and Roadrunner has done something extraordinary, converting a landscape being used for very little into an integral part of the world's push toward sustainable, renewable energy.
"This milestone emphasizes the scale of Enel Green Power's capability to develop, build and operate projects across diverse geographies and technologies in the U.S.," said Georgios Papadimitriou, Head of Enel Green Power North America. "We continue to aggressively pursue opportunities for growth in North America, capitalizing on strong C&I demand for sustainable power and accelerating the transition to a carbon-free economy."
Why Array?
With so much potential for Roadrunner's bifacial solar modules to power that march toward true sustainability, Enel Green needed solar trackers to provide proven performance and real, consistent results.
Enter the Array DuraTrack® single-axis solar tracker.
DuraTrack is the result of three decades of field-tested design improvements, allowing it to fulfill Array's mission of bringing the solar industry innovations that power real advancements by becoming the most durable, reliable tracking system under the sun.
Featuring streamlined installation thanks to a single-bolt module clamp and forgiving tolerances, the DuraTrack doesn't sacrifice performance, offering flexibly linked architecture that maximizes power density and promoting uptime with an innovative use of far fewer components than other options and a failure-free wind management system.
Put it all together, and the DuraTrack delivers the industry's highest power density, cutting-edge terrain adaptability, greater reliability and absolutely zero scheduled maintenance.
For massive projects like the Roadrunner solar farm, that translates into:
99.996% Uptime
7% Lower LCOE
31% Lower Lifetime O&M
These savings and the performance guaranteed by DuraTrack trackers are integral to fulfilling Roadrunner's mission to not only lead the way toward a more sustainable future but invest in the local community and ensure the operation is as future-proof and scalable as possible.
It's simple – when you choose to leverage the best and most innovative technology available, you ensure you're ready for whatever lies ahead.
Contact Array Today
Array has been manufacturing solar projects in Albuquerque, New Mexico since 1989 and has supplied more than 10 gigawatts to commercial and utility-scale projects around the globe, displaying a proven track record of success as pioneers in the solar power industry.
With a specialized focus on solar trackers, Array has positioned itself as a true partner in efforts to boost return on investment and lower LCOE, and we're ready to help you do just that.
Contact us to learn more about the DuraTrack single-axis solar tracker or request a quote today.
Click here for other articles by this author