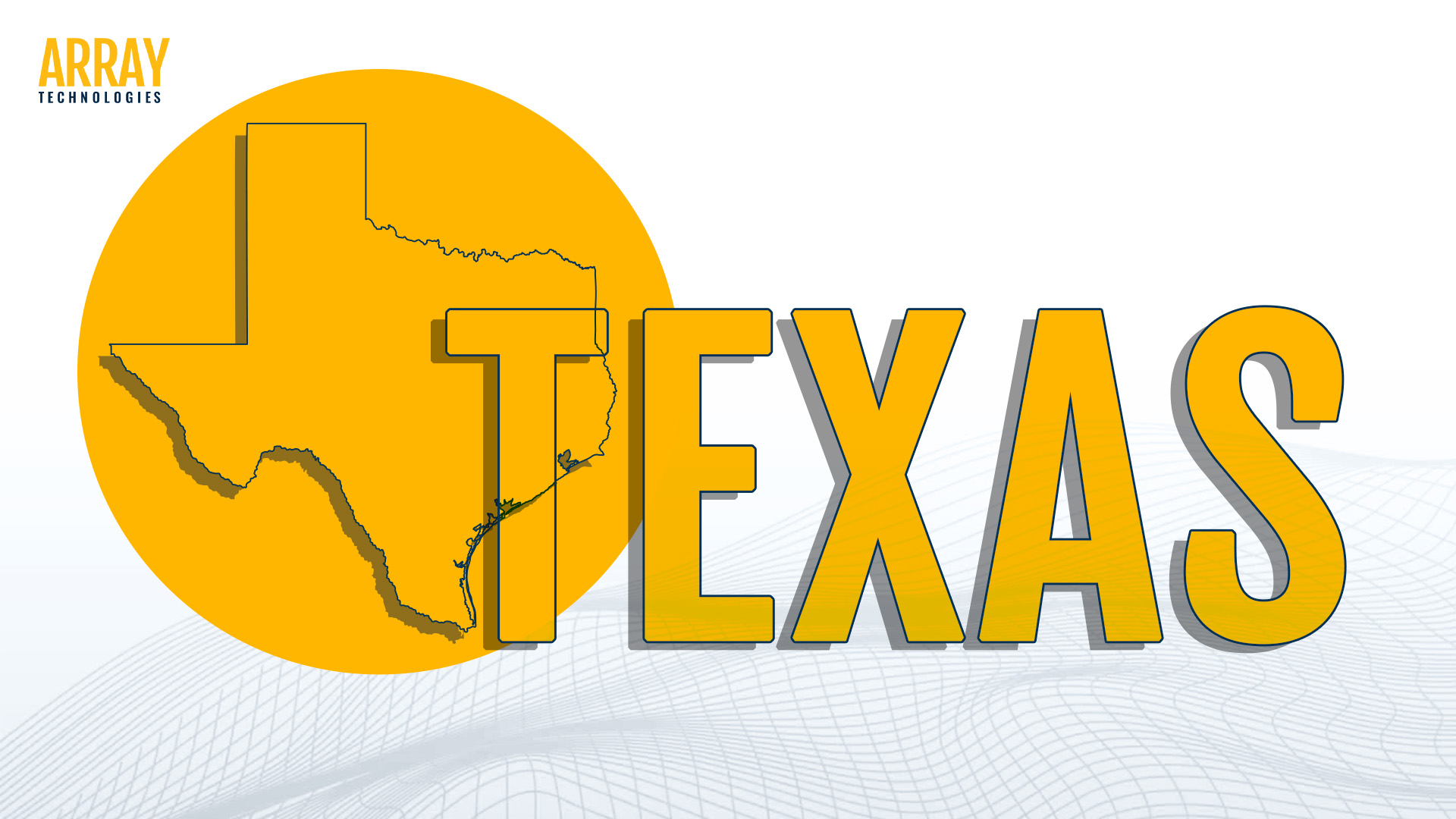 To respond to the demand for solar power in Texas, Array has already shipped over 2GW of solar tracker materials to the state.
The massive Electric Reliability Council of Texas (ERCOT) grid distributes energy to the biggest state in the continental U.S. Through large-scale utility projects and tracker design options that meet individual site needs, Array has helped solve some Texas-sized problems.
Step back and think about the fact that ERCOT holds its place among just two other power grids in the entire 48 lower states. The Lone Star State maintains its own grid to steer clear of federal oversight. It's clear that Texas still has a little Wild West running through it.
However, the unique situation of ERCOT running an independent grid offers both advantages and disadvantages in terms of energy production and distribution. Solar is playing a part in smoothing out the disadvantages.
The State of Texas Utility Power 
In 2019, Texas saw a 13% increase in energy rates over the 2018 average while the rest of the country saw a decrease. It was a brutally hot summer that sent energy demands through the roof and tested the limits of the independent grid.
ERCOT delivers power to a large portion of Texas and, on occasion in the past, to other nearby grids. Through its history, the indie grid has sent power out to Oklahoma and imported power from Mexico during looming or active blackouts. This has led to messy legal issues and insecurity.
The good news is that things are changing. 2020 already looks better due to more renewables, including a significant increase in online solar.
Renewable Goals and LCOE
Despite being born of oil, Texas is now a state that's embracing solar in the 2020s. Austin Energy and other utilities across the state have major goals for renewables. Austin is shooting for 65% renewables by 2027. Widescale solar is playing a major part in hitting those numbers.
At Array, our focus is always on making more efficient systems and lowering the levelized cost of energy (LCOE) for project developers. Helping increase a project's ROI means Array helps create more clean solar energy in Texas and around the world.
Our thoughtfully designed trackers are populating one of the largest bifacial solar plants in the Americas (in Texas) along with many other design deployments to maximize sun capture in the Lone Star State. We have to say, it feels great to be part of the solution.
A fast-growing population and prosperous business environment challenges Texas's power grid, and severe weather events like hail, tornadoes, and flooding make logistics and construction challenging. On the other hand, Texas has so much space and access to transmission lines that in many ways it is ideal for major solar sites. Getting those sites up and running quickly and making sure they are secure in extreme weather (including wind and hail) is where Array trackers really make all the difference for successful utility-scale developers and site owners.
How does contributing over 2GW of solar trackers to some of the most significant solar projects on the ground in Texas feel? It generates some Texas-sized feelings of pride.
---
Travis Rose, Vice President of Sales–North America for Array Technologies, is both a Texas resident as well as a graduate of the University of Texas.
Click here for other articles by this author