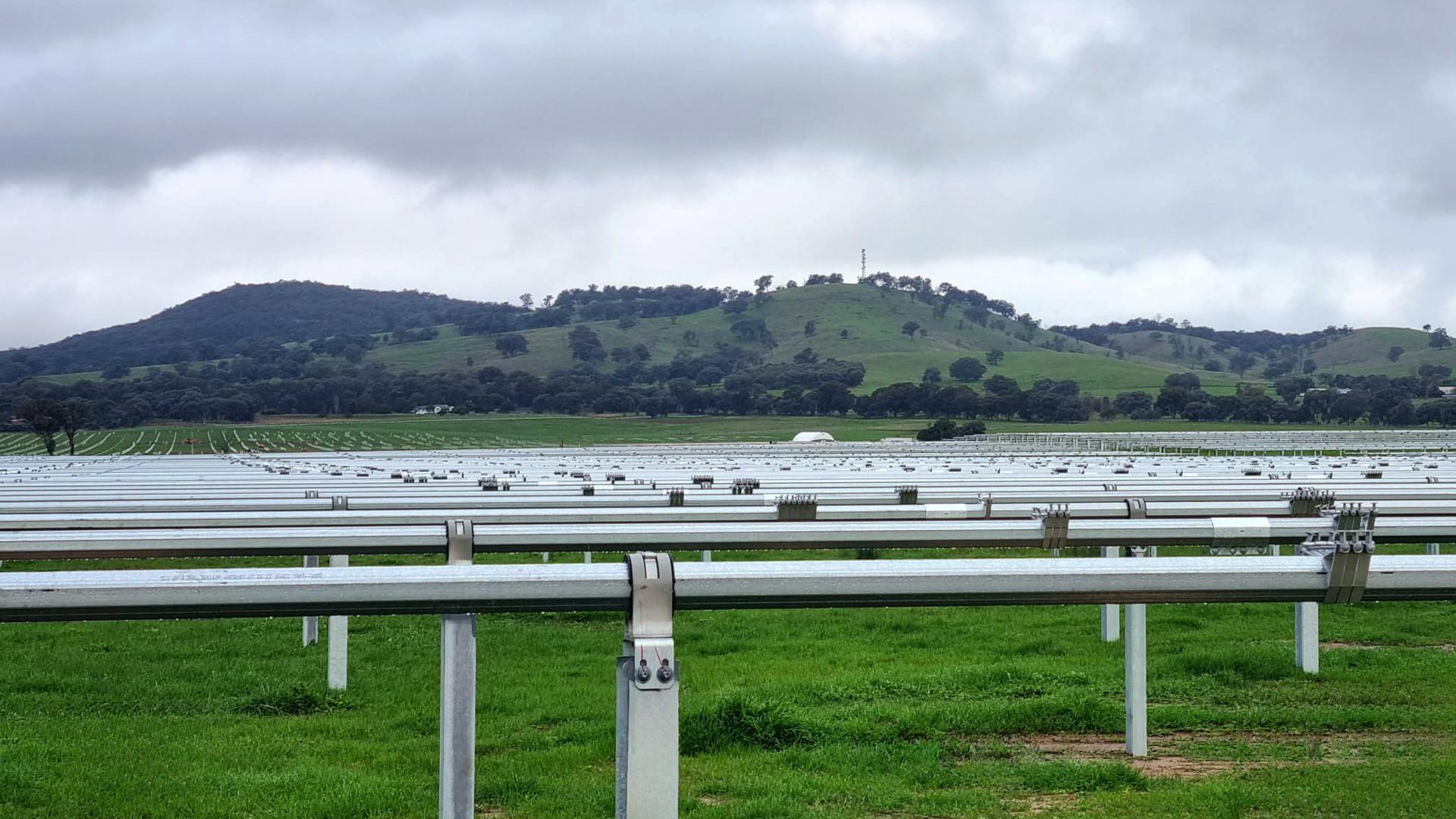 Australia's rich sunshine and abundant land make it an ideal environment for utility-scale solar power. In 2022, 35.9% of Australia's power stemmed from renewable sources, with large-scale solar accounting for 14% of that mix.
At Array, we're proud to be the first solar tracker company to establish local manufacturing operations in Australia. Our position allows us to support solar projects as well as contribute to the growth of the region's economy by creating new job opportunities.
Array has been awarded the first tracker supplier contract under the Victorian Renewable Energy Target 2 (VRET2) auction, which aims to increase renewable energy manufacturing and help Victoria achieve its goal of 100% renewable electricity consumption for its operations by 2025.
The VRET2 initiative is expected to generate 920 direct jobs and attract $1.48 billion in new renewable energy projects in Victoria. A key VRET2 project is the Glenrowan solar farm, and Array is playing a pivotal role by supplying solar trackers for the 130MWdc site.
Array's local manufacturing capabilities within Australia
In partnership with our local manufacturers, Array has established facilities in New South Wales, Victoria, and Queensland. These facilities manufacture high-quality tracker components, such as our unique octagonal torque tube, global central structure, brackets, and foundations, using more than 95% local steel content.
We've also established additional local Australian manufacturing partners in New South Wales, Melbourne, Victoria, and Whyalla, South Australia. These partnerships are not only promoting the Australian solar industry but also creating up to 120 new full-time employment positions, supporting local businesses and community initiatives, and reducing environmental impact through sustainable logistics.
Array also works with local manufacturing partners that support local businesses by:
Partnering with First Nations Communities
Offering scholarships to help build a sustainable future through a Greensteel Academy | GFG Alliance
Offering an Aboriginal trainee program
Working with Indigenous Supply Australia (ISA) – an Indigenous-owned and operated supplier
Array's Australian-made solar trackers provide several advantages, ensuring a reliable, cost-effective, and environmentally friendly solution for solar farm developers. These benefits include quality adherence, local support, environmental benefits, customization, local job support, enhanced performance, cost-effectiveness, superior quality control, and shorter lead times.
6 Unique features of the Array DuraTrack® solar tracker
As one of the planet's most topographically and climate-diverse places, flexibility and reliability are major points of interest when developing a utility-scale solar farm. These six unique features of the Array DuraTrack® make it an ideal solution for solar developers and EPCs.
High power density: 100 modules per row and higher density (more production per square meter) than our closest competition.
Leading terrain adaptability: Array's adaptable system follows natural land contours while creating the highest possible power generation.
Fewer components and greater reliability: 167 times fewer components than competitors mean higher reliability and superior uptime.
Failure-free wind design: Only tracker on the market that reliably handles wind events with a fully passive, mechanical wind-load mitigation system.
Zero scheduled maintenance: Unparalleled uptime track record (99.99%).
SmarTrack® Optimization Technology: Intelligently adjusts modules per weather and site conditions to increase energy harvest by up to 5%.
Array's dedication to delivering quality products and services
Beyond local manufacturing, we also provide local engineering services, including complete solar farm layout design, foundation design, PVSyst yield analysis, and grading analysis; geotechnical, topography and flooding assessments; installation supervision and on-site training; hot commissioning, after-sales service and warranty, and spare parts management.
Contact Array today to discover how we can contribute to your Australian solar project.
Click here for other articles by this author