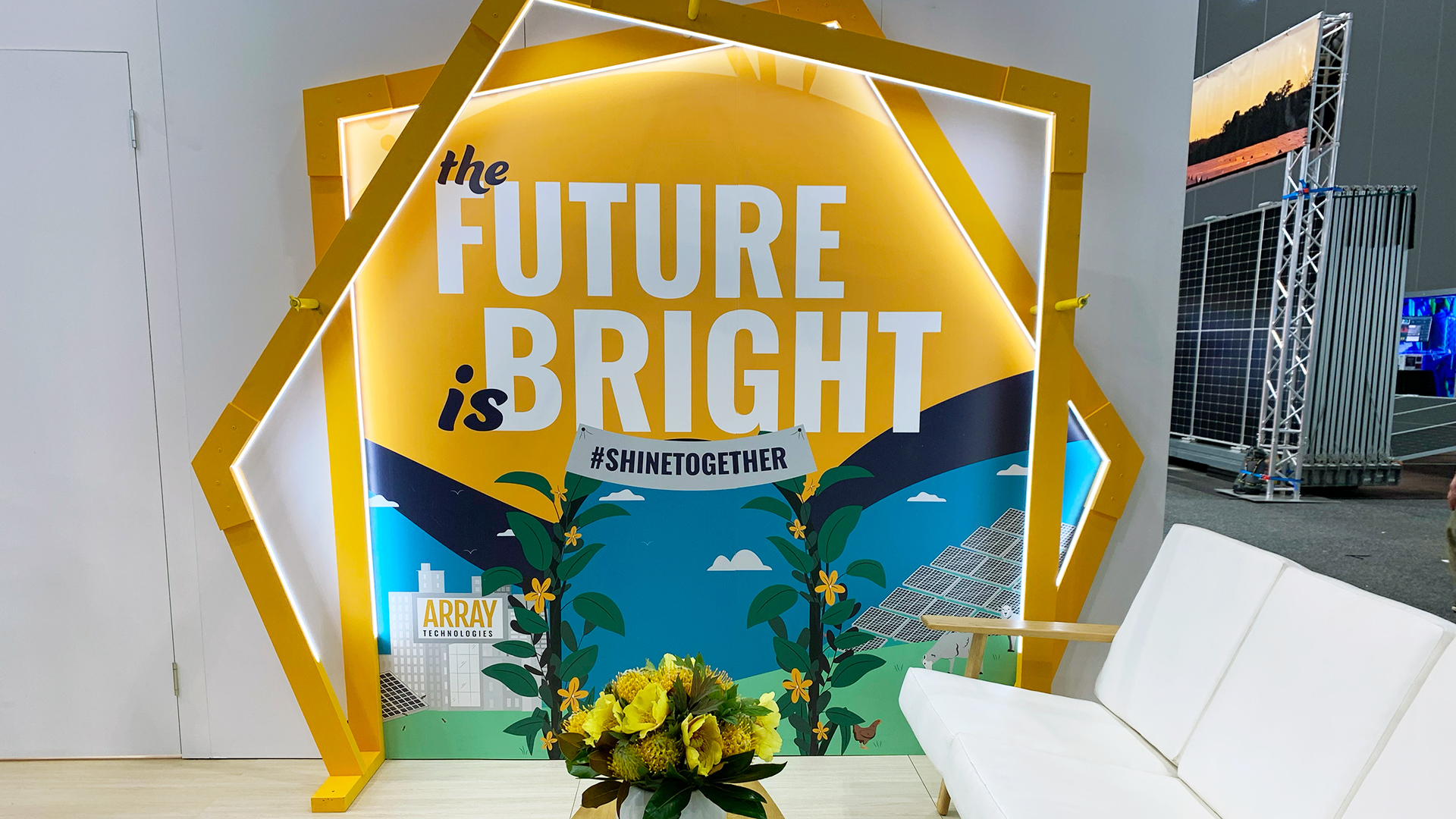 The solar industry continues to dominate the headlines. Whether you're passionate about renewable energy or an investor, there are two topics that will continue to influence the growth trajectory of our industry: 
The importance of a solid, reliable supply chain, and

 

The increased demand for solar energy—and utility-scale solar sites.

 
We are living in a pivotal time. The world continues to grapple with climate change and its impacts on the planet, and the growth of the clean energy industry has never been more critical.  
These past few months, the Array team and I had the pleasure of attending two of the renewable energy industry's largest and most important industry conferences—RE+2022 in California, U.S. and All-Energy in Melbourne, Australia. 
It's been three years since these conferences were last held in person, and there was a noticeable buzz at each as major players from the clean energy industry reunited. 
Even though the shows were on two separate continents, both markets agreed that the future is bright for renewable energy, especially solar.  
Building More Utility-Scale Solar Requires a Solid, Reliable Supply Chain
RE+ 2022 is North America's largest and most comprehensive conference for the renewable energy industry. And the questions on all attendees' minds seemed to be about needing more robust and regionally diversified supply chains to meet our industry's continued growth.  
Thankfully, Array already has a long-standing and mature U.S. domestic supply chain with a strong record of execution including the ability to source up to 90% of our products domestically. So, we were able to use our well-established domestic content and partnerships to answer attendees' questions with confidence as we navigate the unknown waters of the opportunity that the IRA bill brings to the industry.  
Our longstanding domestic supply chain continues to be important to us as a U.S.-based manufacturer and now its even more important to our customers with the incentive that the IRA bill brings. 
Not only do we strive to have the shortest and most reliable lead times in our industry, but Array uses U.S. steel mills and partners with suppliers that source green steel from the U.S. Even so, we're constantly improving on better ways to serve our clients and work with industry partners committed to clean energy solutions.  
The RE+ conference brought together the industry's top executives and innovative companies from around the world. We were grateful for the chance to share how Array plays a significant role in building the clean energy future. At the show, we not only celebrated the huge public policy win of the IRA bill, but also introduced our newest utility scale offerings, the Array OmniTrack™  as well as the Array STI H250 trackers to the U.S. market.  
The Future is Bright for Solar as Demand Continues to Grow
RE+ set a high bar ahead of All-Energy Australia, but it did not disappoint. The 2022 Australian event was the largest ever held, with a record number of attendees, more than 300 exhibitors, and more than 200 speakers at panels and presentations. 
We had a lot of great discussions with clients and partners concerning local market conditions and the opportunities for 2023 and beyond.  
Array has been operating in Australia since 2017, with over 2 gigawatts of projects deployed in-country. We have offices in Sydney and employees throughout the region. We're well-positioned down under to help Australia meet their solar energy goals by offering more of Array's products to the market.  
The Australian government plans to generate 95% of energy from renewables by 2035. Given the distance of Australia from other major regions and wide-open geography, the country is ideally suited for solar, which could provide much-needed infrastructure support to the more remote areas. The country is also focused on developing domestic content requirements in some states. This has created an opportunity for Array to boost its supply base in the country and be closer to where our customers' projects are. 
---
Learn more about the full suite of Array Products. 
---
Many clients and industry partners shared that there is growing international interest in "mega projects," in part because Australia's geographic location provides the ability to supply energy not only for itself but also to other APAC countries. One innovation that could help make these projects more feasible is automation.  
For some local projects, there are still challenges to be managed. For example, delays in grid interconnection issues remain a sticking point for new solar projects, as in other global regions.  
Whether it's a collection of smaller projects, one large project, or grid delays, the Array team looks forward to continuing conversations with strategic customers to help generate energy with integrity.  
With its geographic location, natural resources, and innovative industry technologies like Array's solutions, Australia is ready to take its place as a global leader in the clean energy space. The future is as bright in Australia as in Southern California, and Array is ready to do our part to advance the clean energy future for our customers and citizens worldwide. 
All around the world, the growth of the solar industry can be seen, and the excitement is palpable. Array Technologies is proud to be at the center of the energy transition all over the world. These are exciting times! 
Click here for other articles by this author