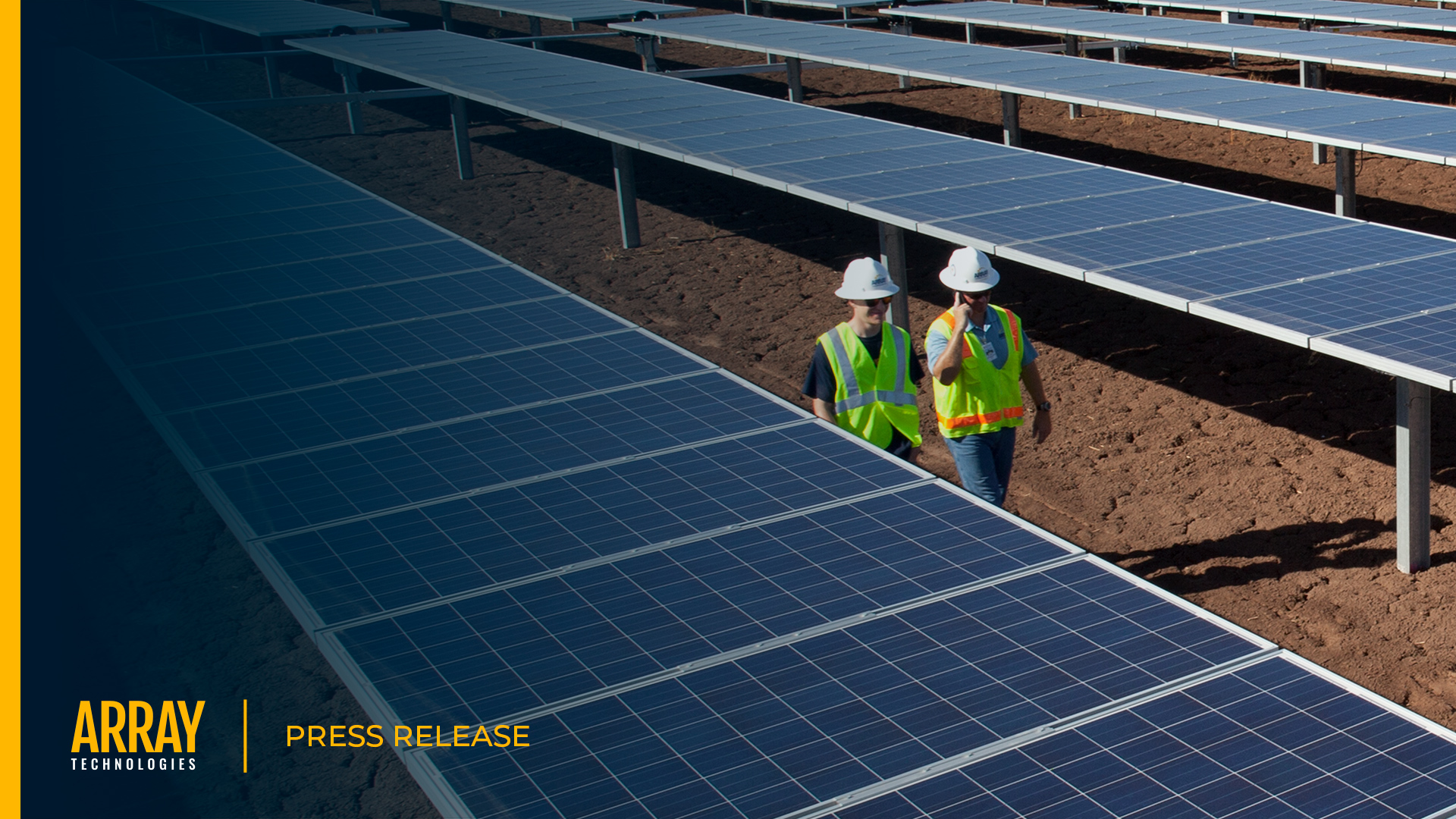 Renewable energy
company reinforces
commitment to responsible development in all its global markets.
ALBUQUERQUE, N.M., October  31, 2022—Array Technologies (NASDAQ: ARRY) ("Array" or "the Company") recently announced it has joined the United Nations Global Compact to help build a more sustainable future and align its global business actions with its Ten Principles that guide corporate leadership on human rights, labor, environment, anti-corruption and societal improvements. 
The UN Global Compact, the world's largest corporate sustainability initiative, established Sustainable Development Goals (SDGs) that focus on water, energy, environment, urbanization, transportation, science and technology, health and education, economic growth and equality. 
This participation is integral to Array's expanded discipline and execution of the company's continuous improvement in Environmental, Social and Governance (ESG). Its recently released 2021 ESG report included enhanced transparency benchmarked against ESG frameworks and alignment to several of the UN SDGs, including: 
Affordable and Clean Energy

 

Industry Innovation and Infrastructure

 

Responsible Consumption and Production

 

Climate Action

 

Life on Land

 
"As we elevate our ESG capabilities, participation in the UN Global Compact is a critical part of our commitment to achieving sustainable economic and energy development," said Array Technologies CEO Kevin Hostetler. "ESG leadership is fundamental for all responsible corporations, and it is critical for renewable energy companies like Array to take action to accelerate innovation and collaboration." 
In tandem with its second annual ESG report released in June, Array also updated its operating policies aligned with the 10 UN Global Compact principles, including the company's anti-bribery and anti-corruption policy, conflict minerals policy, corporate code of conduct, export control and sanctions compliance policy statement, and its human rights policy and supplier code of conduct. 
Launched in 2000, the UN Global Compact is the largest corporate sustainability initiative in the world, with more than 15,000 companies and 3,800 non-business signatories based in over 160 countries. 
About Array Technologies, Inc.
Array Technologies (NASDAQ: ARRY) is a leading American company and global provider of utility-scale solar tracker technology. Engineered to withstand the harshest conditions on the planet, Array's high-quality solar trackers and sophisticated software maximize energy production, accelerating the adoption of cost-effective and sustainable energy. Founded and headquartered in the United States, Array relies on its diversified global supply chain and customer-centric approach to deliver, commission and support solar energy developments around the world, lighting the way to a brighter, smarter future for clean energy. For more news and information on Array, please visit arraytechinc.com.  
Forward-Looking Statements
This press release contains forward-looking statements that are based on our management's beliefs and assumptions and on information currently available to our management. Forward-looking statements include statements regarding our projected future goals, results of operations, business strategies, and industry and regulatory environment. Forward-looking statements include statements that are not historical facts and can be identified by terms such as "anticipate," "believe," "could," "estimate," "expect," "intend," "may," "plan," "potential," "predict," "project," "seek," "should," "will," "would" or similar expressions and the negatives of those terms. Topics that may be deemed material under the SASB Standards and/or the GRI Standards are not necessarily material for purposes of the U.S. federal securities laws or for other purposes. For additional information on the SASB Standards and the GRI Standards, please visit their respective websites. Array's actual results and the timing of events could materially differ from those anticipated in such forward-looking statements as a result of certain risks, uncertainties and other factors, including the risks and uncertainties described in more detail in the Company's most recent Annual Report on Form 10-K and other documents on file with the SEC, each of which can be found on our website www.arraytechinc.com. Except as required by law, we assume no obligation to update these forward-looking statements, or to update the reasons actual results could differ materially from those anticipated in these forward-looking statements, even if new information becomes available in the future. 
Media Contact:
Steve Brecken
H+K Strategies
832-285-4620
Steve.Brecken@hkstrategies.com
Investor Relations Contact:
505-437-0010
investors@arraytechinc.com