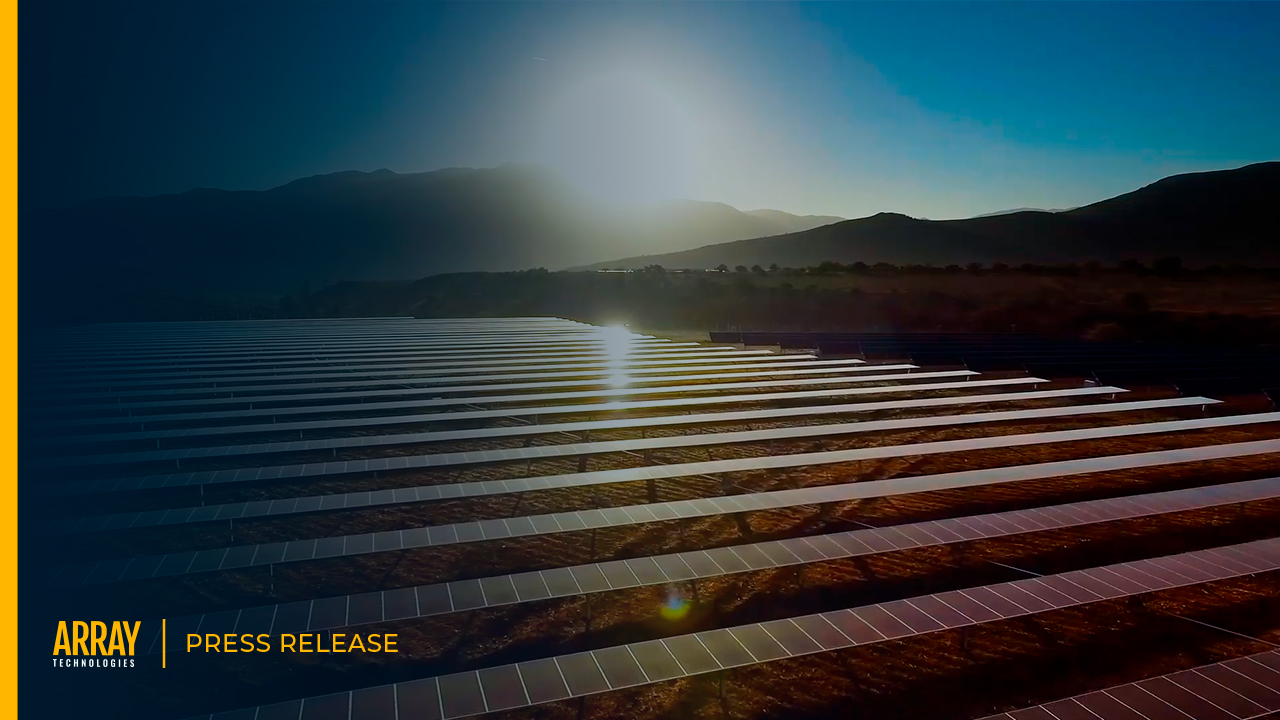 Winning organizations Girls on the Run Rio Grande, Adelante Development Center, and Glass City Community Solar, were selected by Array employees to support their local communities.
Albuquerque, NM –October 14, 2021 – Array Technologies (NASDAQ: ARRY) ("Array"), one of the world's largest manufacturers of ground-mounted systems used in solar energy projects, today announced that it has made a $10,000 charitable contribution to three nonprofits as a part of the Array Cares Social Responsibility Program. The Program's "Share the Sunshine" Contest invited Array employees to nominate and vote for deserving organizations to receive the grants. This year, Girls on the Run Rio Grande won first place, receiving $5,000; Adelante Development Center won second place, receiving $3,000; and Glass City Community Solar won third place, receiving $2,000. The winning organizations were honored during a ceremony at Array's headquarters in Albuquerque on October 12, 2021.
"Array is dedicated to lighting the way to a brighter future, and our work extends beyond clean energy," said Jennifer Cheraso, Chief Human Resource Officer. "Collectively, our team has the ability to make a tremendous impact on the world and our 'Share the Sunshine' Contest is a testament to that. Each of these organizations is incredibly deserving of these funds and we are honored to support the various communities that our employees call home."
Girls on the Run (GOTR) Rio Grande won first place and was nominated by Esabelle Verdeja, Operational Excellence Manager at Array. GOTR is an after-school youth development program for girls designed to emphasize the important connection between physical and emotional health. Throughout the program, the girls train to complete a 5K, helping them achieve a sense of accomplishment, confidence, and a goal-oriented mindset. Array's donation will help supply shoes, socks, water bottles, and healthy snacks for the season.

"We are so thankful to Esabelle and Array for recognizing our work," said Angelica Turrieta, GOTR RG Council Director. "This generous gift has the power to help many girls learn critical skills that will serve them for the rest of their lives."
Adelante Development Center, nominated by Suzan Harris, Order Fulfillment Specialist at Array, won second place. Adelante is a diverse nonprofit organization based in New Mexico that supports people with disabilities, seniors, and disadvantaged populations in the local community. The agency provides employment, residential services, day services, and volunteer opportunities for its members. Adelante also has an Information Technology program for people with disabilities, women, and people of color that offers hands-on training and equipment to begin careers in the industry.
"As a nonprofit working to move New Mexico forward, Adelante greatly appreciates Array and their generosity. This funding will support Adelante's DiverseIT program and help to provide tech training for people who have been traditionally excluded from technology – people with disabilities, women, and people of color. Because Array is a leading global technology program, we felt that was an ideal fit," said Rebecca Sanford, President & CEO of Adelante.
The third-place winner, Glass City Community Solar (GCCS), is a nonprofit organization created by University of Toledo students and staff in partnership with community members. Nominated by Jim Sorensen, Senior Product Manager – PV Module Interfaces at Array, GCCS serves to plan, design, finance, install, and operate solar power systems to provide solar electricity and subsequent financial benefits to local lower- and middle-income communities. The organization also sponsors both youth and adult educational programs to foster interest and excitement in renewable energy careers.
"We at GCCS are very honored to receive support and recognition from a leader in the solar space," said Evan Nichols, GCCS Board Vice President. "We appreciate and admire the entire Array team for bringing awareness to our mission — to bring energy justice to Toledo's underserved community members through local solar array installations, education, and job training. Successfully reversing our climate change course will require participation from across the socio-economic spectrum."
Array's work extends beyond the global impact of utilty-scale solar deployment and reaches the local communities where our employees live. We are united in raising awareness about the organizations that positively impact people that make our work possible.
To learn more about Girls on the Run, please visit:https://www.girlsontherunriogrande.org/
To learn more about Adelante Development Center, please visit: https://goadelante.org/
To learn more about Glass City Community Solar, please visit: http://glasscitycommunitysolar.org/
About Array Technologies, Inc.
Array Technologies (NASDAQ: ARRY) is a leading global technology company providing tracker solutions and services for utility-scale solar energy projects as one of the world's largest manufacturers of ground-mounted systems. With efficient installation and terrain flexibility coupled with high reliability, durability, and performance, Array delivers a lower levelized cost of energy. The Company's focus on innovation, combined with its customer-centric approach, has helped achieve some of the industry's best returns. Array Technologies is headquartered in the United States with offices in Europe, Central America, and Australia. Contact us at arraytechinc.com or view our LinkedIn page.
Forward Looking Statements
This press release contains forward looking statements. These statements are not historical facts but rather are based on the Company's current expectations and projections regarding its business, operations and other factors relating thereto. Words such as "may," "will," "could," "would," "should," "anticipate," "predict," "potential," "continue," "expects," "intends," "plans," "projects," "believes," "estimates" and similar expressions are used to identify these forward looking statements. These statements are only predictions and as such are not guarantees of future performance and involve risks, uncertainties and assumptions that are difficult to predict. Actual results may differ materially from those in the forward looking statements as a result of a number of factors.
Media Contact:
Laurie Steinberg
845-558-6370
lsteinberg@soleburytrout.com
Investor Relations Contact:
505-437-0010
investors@arraytechinc.com