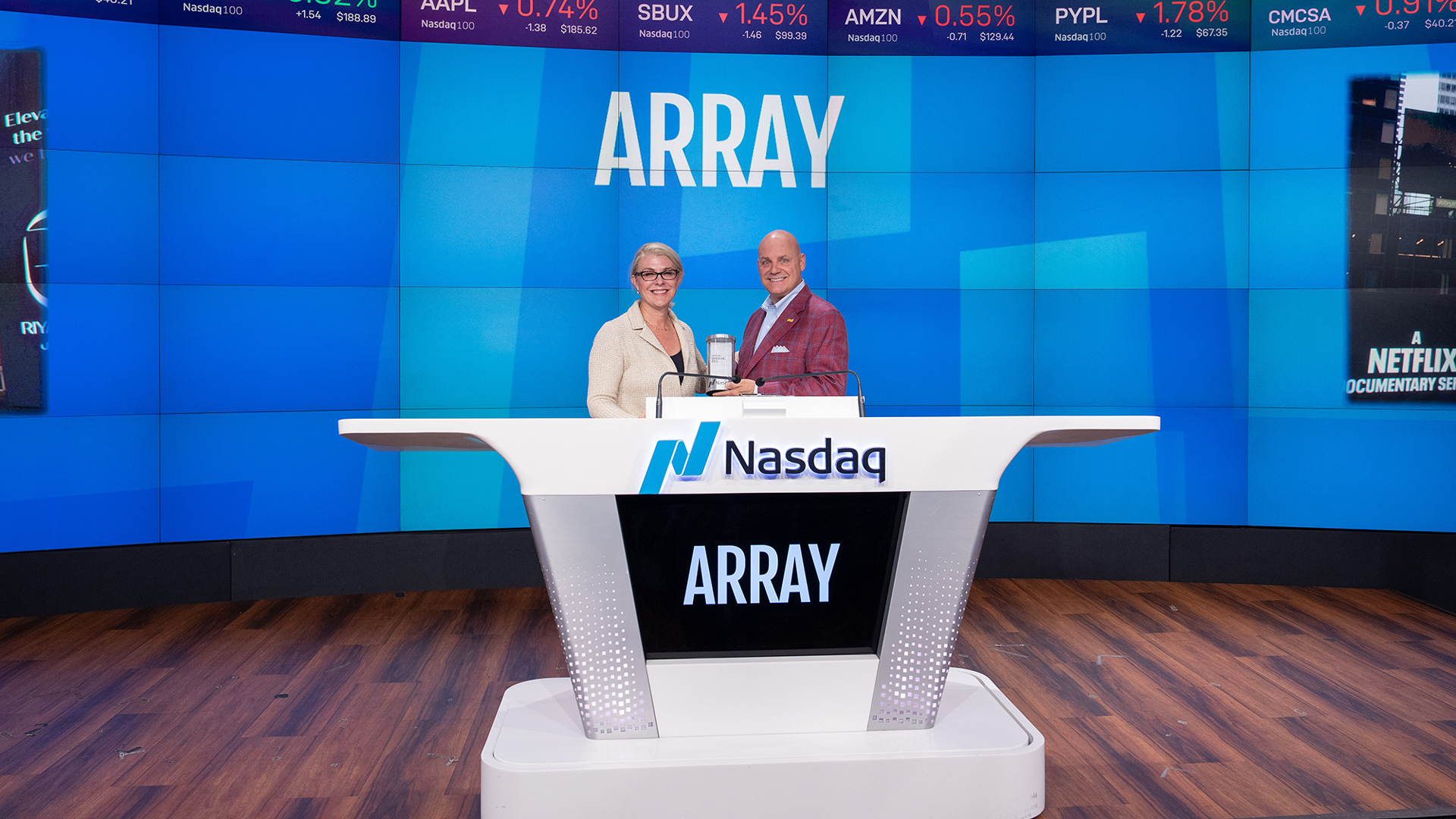 Recently, we celebrated the third anniversary of our IPO, and it was the perfect moment to reflect on how this monumental shift—becoming the largest solar sector IPO with a $1 billion raise—has furthered Array's 30-year legacy of innovation and global expansion. The move also ranked Array among the top ten biggest IPOs on Nasdaq in 2020. Looking back on the third anniversary of going public, it's evident how this was a driving force that fueled our innovation and steadfast determination to carve our own path forward.
Evolution in the Face of Global Challenges
Going public added new dimensions to our business management, especially while navigating global challenges, including:
Supply chain shortages,
Interest rate fluctuations,
Commodity price volatility, and
Tariffs.
These challenges did not hinder us. They made us more robust and adaptive and equipped Array to thrive in an ever-changing market.
Expanding Profile and Market Reach
This isn't just a three-year story—it's the latest chapter in our ongoing, 30-year narrative of leading the renewable energy sector.
Our bold move to go public in 2020 enabled us to harness capital and venture into lucrative endeavors, like our acquisition of STI Norland, a European solar tracker manufacturing pioneer, in January 2022. That integration marked a significant milestone in expanding our global footprint. With funds raised, we could enter into other thriving markets as well, like Brazil, which further cemented our presence in South and Central America.
Since 2020, Array has facilitated the broadening of our product range, introducing innovations like Array OmniTrack™ and Array STI H250 to the market. Today, our line of solar trackers and technology solutions address varying customer needs and the changing landscaping of the utility-scale solar industry while adhering to strict regulatory requirements, like those in the U.S.'s Inflation Reduction Act. With these new product introductions, Array continues to deliver reliability, ease of installation, and extreme weather risk mitigation that provide optimal project returns.
Additionally, Array has continued to innovate on our industry leading software, Array SmarTrack™. Our suite of software solutions is designed to address specific challenges facing utility-scale solar projects. The suite includes specialized products like Array SmarTrack™ Backtracking, Array SmarTrack™ Diffuse, Array SmarTrack™ Automated Snow Response, and Array SmarTrack™ Automated Hail Response.
These advancements represent a paradigm shift in how solar energy projects can be managed and optimized. For instance, our Automated Hail Response feature is designed to protect solar investments from the increasing frequency of severe weather events, a timely innovation considering NOAA's National Weather Service Storm Prediction Center Annual Severe Weather Report Summary reported over 4,400 hail events in 2022.
Going public has not only strengthened our financial position but also increased our visibility in a meaningful way. This heightened profile has attracted a diverse group of investors and provided us with the opportunity to educate a broader audience. Now, more people than ever understand the essential role that solar trackers play in the renewable energy ecosystem, which has further expanded our market reach.
Furthermore, our commitment to domestic sourcing isn't a trend—it's a 30-year philosophy that has real economic and environmental payoffs. By focusing on shortening supply chains within the market and curbing the shipping of goods, we emphasize the economic and environmental advantages of domestic sourcing.
Our steady growth, robust balance sheet, and expansive market reach have led us to forge valuable partnerships with industry giants like Nucor, EAC, Steel Dynamics, and Lock Joint Tube. These collaborations not only extend our capabilities but also optimize capital allocation and ensure that our shareholders reap the maximum benefits. Importantly, our alliance with U.S.-based suppliers is part of a longstanding commitment, not a response to recent trends. Array has long prioritized having some of the highest U.S. content in our industry, demonstrating our dedication to domestic manufacturing and sustainable, quality sourcing for our solar tracker technology and software.
Looking Ahead – A Foundation for the Future
Array's IPO was not a starting line but rather a springboard that leverages our more than three decades of experience. The resulting heightened accountability to our investors helped refine our risk management strategies for both short- and long-term goals, making Array agile and ready to pivot as the market demands.
With a tried and tested business model at our core, we're primed to cater to the surging demand in solar markets around the globe, including–the U.S., Europe, Latin America, and Australia. Moreover, our sights are set on new and burgeoning markets, which hold immense potential for the future.
In essence, Array's journey post-IPO stands as a testament to our commitment, resilience, and vision. As we celebrate this significant milestone, our focus isn't solely on our past milestones. We're also setting our sights on the future, fully committed and ready for the numerous opportunities and challenges that lie ahead. Array will be here, continuing to innovate and lead the solar energy industry.
Click here for other articles by this author