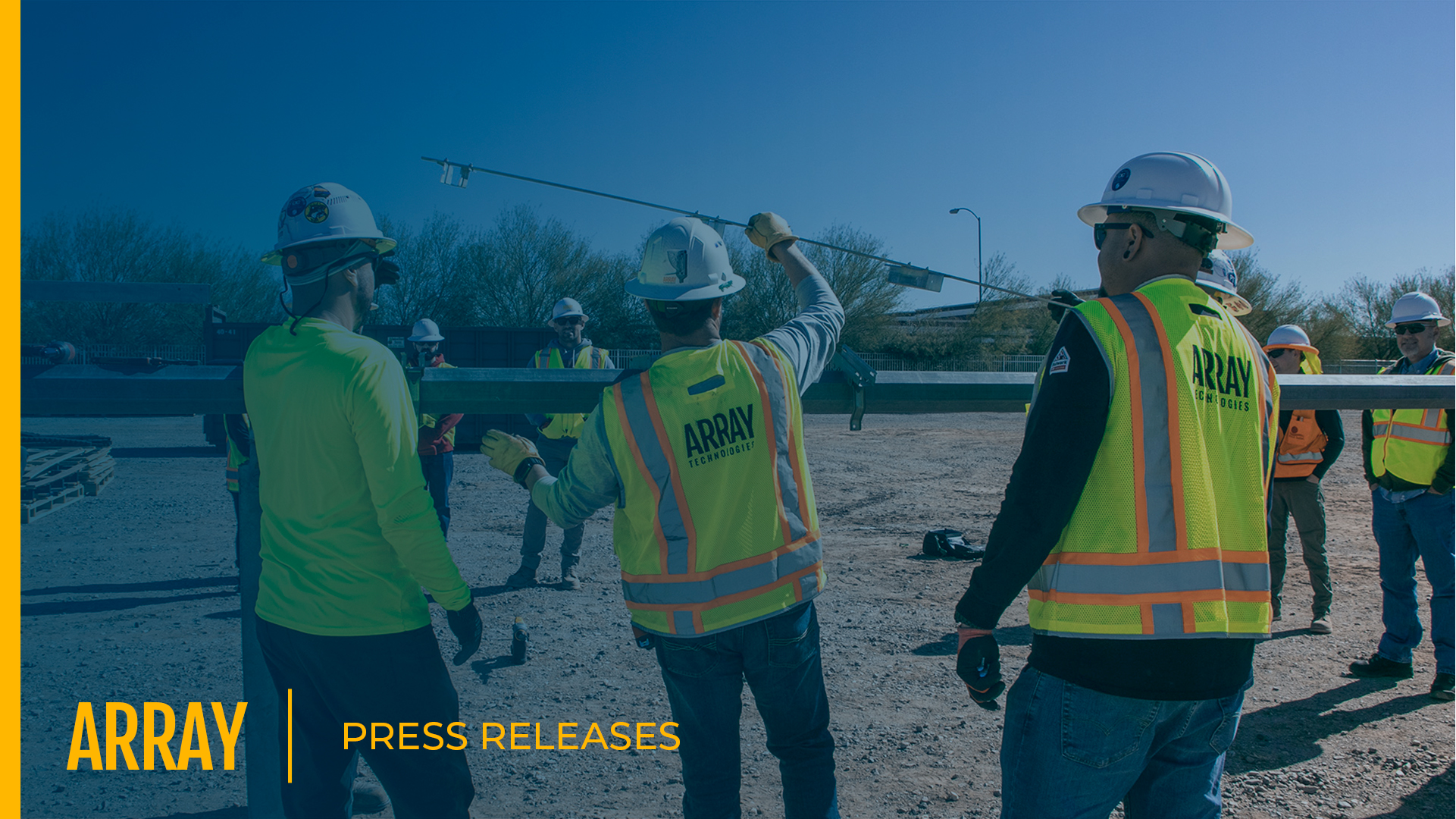 ALBUQUERQUE, N.M., November 3, 2023—Array Technologies (NASDAQ: ARRY) ("Array" or "the Company"), a global leader in utility-scale solar tracking solutions, is thrilled to announce the launch of its comprehensive Field Services and Customer Training solutions. Designed to meet the ever-evolving demands of the solar industry, these offerings tackle key challenges facing the industry to help reduce operational downtime and increase productivity and quality in the field.
The on-site and remote services and training offerings, currently available in the U.S. with plans to expand to international markets in the future, are crafted to meet the unique needs of engineering, procurement and construction (EPC) professionals, utility-scale solar, operation and maintenance (O&M) partners, and solar site developers.
"Our new services and training offerings embody Array's unwavering commitment to equip our clients with the skills and solutions they need for optimal solar farm operation," said Kevin Hostetler, CEO of Array. "By offering solutions tailor-made for our customers' needs, Array is reinforcing its commitment of being a trusted, reliable partner for our customers through every stage of their utility-scale solar project."
Array's Customer Training Solutions offer an innovative approach to workforce development, and we're proud to share that our courses meet the requirements for up to eight North American Board of Certified Energy Partners (NABCEP) professional development credits, which adds additional value to our customers.
The Company's new customizable Field Service Solutions deliver value-added, long-term services to meet a range of site-specific needs, from upgrading software to on-site logistics and delivery support.
To help introduce these offerings, Array expanded its customer and product support teams over the last year, including hiring a director of training and development. In addition to the new supplemental after-market offerings, all Array tracker orders include a dedicated project manager and standard help desk support to ensure all projects run smoothly.
More information on the programs can be found on Array's Course Catalog and Field Service solutions webpages.
About Array Technologies
Array Technologies (NASDAQ: ARRY) is a leading global renewable energy company and provider of utility-scale solar tracking technology. Engineered to withstand the harshest conditions on the planet, Array's high-quality solar trackers and sophisticated software maximize energy production, accelerating the adoption of cost-effective and sustainable energy. Founded and headquartered in the United States, Array relies on its diversified global supply chain and customer-centric approach to deliver, commission and support solar energy developments around the world, lighting the way to a brighter, smarter future for clean energy. For more news and information on Array, please visit arraytechinc.com
Forward Looking Statements
This press release contains forward-looking statements, and these statements are not historical facts but rather are based on the Company's current expectations and projections regarding its business, operations, and other factors relating there to. Words such as "may," "will," "could," "would," "should," "anticipate," "predict," "potential," "continue," "expects," "intends," "plans," "projects," "believes," "estimates" and similar expressions are used to identify these forward-looking statements. These statements are only predictions and as such are not guarantees of future performance and involve risks, uncertainties, and assumptions that are difficult to predict. Actual results may differ materially from those in the forward-looking statements as a result of a number of factors.
###
Media Contact:
Katharine Fraser
H+K Strategies
281-409-9351
katharine.fraser@hkstrategies.com
Investor Relations Contact:
Array Technologies, Inc.
Investor Relations
505-437-0010
investors@arraytechinc.com