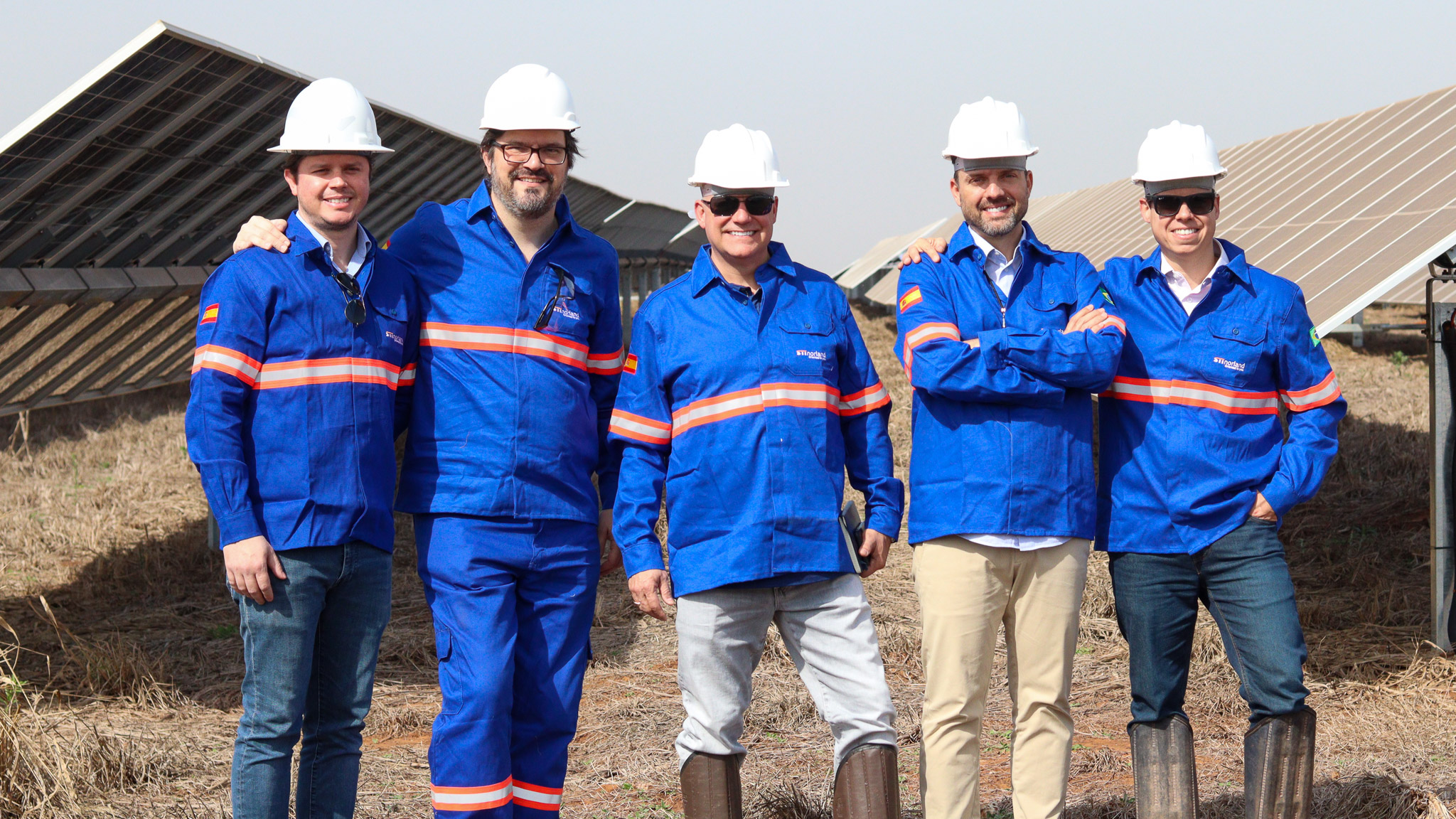 When I joined Array Technologies (Array) in April, I saw the opportunity to roll up my sleeves and work alongside people passionate about changing the trajectory of climate change.
Before I Could Lead, I Needed to Listen
For 30 years, Array's engineering prowess and dedication to the renewable energy space have outshone the competition.
So, before I could jump into the day-to-day of my job as Chief Executive Officer (CEO), I knew I first needed to listen.
In my first six months, I met with customers and project partners who provided feedback, insights, and opportunities. I also spoke with team members from around the world, including Spain, Brazil, Australia, and South Africa.
We currently have over 1,500 employees, and everyone I've met has been open, warm, and welcoming. The Array team is immensely knowledgeable, and their dedication is contagious.
New Products to Help Advance the Future of Clean Energy
We don't need to hope or dream of addressing the demand for utility-scale solar worldwide. Since acquiring STI Norland, one of Europe's leading manufacturers of solar trackers, in early 2022, the possibilities are practically endless.
Together, our manufacturing capacity and design and engineering resources span three continents, and we're delivering value to more customers and creating access to lower-cost, proven products.
I recently spent a week in Brazil with our legacy STI team and was fortunate to meet many of our team members and customers. I also spent time in the field on utility-scale solar sites learning and understanding the STI product and service offerings.
I've been incredibly impressed with the team at STI. They are dedicated to the company and the industry and continue to rally to every challenge we present them.
Including when Array launched two new utility-scale solar tracker systems to the U.S. market—Array OmniTrack™ and Array STI H250—during RE+ in September.
OmniTrack offers up to 1° of slope change pile-to-pile—a significant angle that can reduce up to 98% of grading or earth movement—and is ideal for customers developing project sites on uneven and challenging terrain.
For sites with irregular boundaries, highly angled blocks, or fragmented project areas, the STI H250 will soon be offered in the U.S., providing a price-competitive option.
Array's Strong Supply Chain & the Impact of the Inflation Reduction Act (IRA)
While other companies scramble to set up domestic content and partnerships, Array already has a long-standing and mature U.S. domestic supply chain and a record of strong execution.
This year, we increased our global capacity to serve the market by more than 25% and can deliver over 30 gigawatts annually. And with over 20 existing U.S. supplier partnerships—and the addition of new suppliers already in the queue—we expect this number to be near 40 gigawatts by the end of Q1 2023.
Then there's the IRA, which includes large subsidies across the entire solar supply chain. However, to get the full subsidy, a solar project must use U.S. products. Making the underlying source of steel a crucial factor for our customers as they look to meet the IRA's domestic content requirements.
Not only does Array utilize steel mills located in the U.S., but we also have suppliers that source steel from the U.S.
Thanks to our large—and well-established—U.S. supply base and our asset-light operating model, we can pride ourselves on the shortest and most reliable lead times in our industry. Even better is that our customers trust in our ability to deliver the right products and services for their projects on time.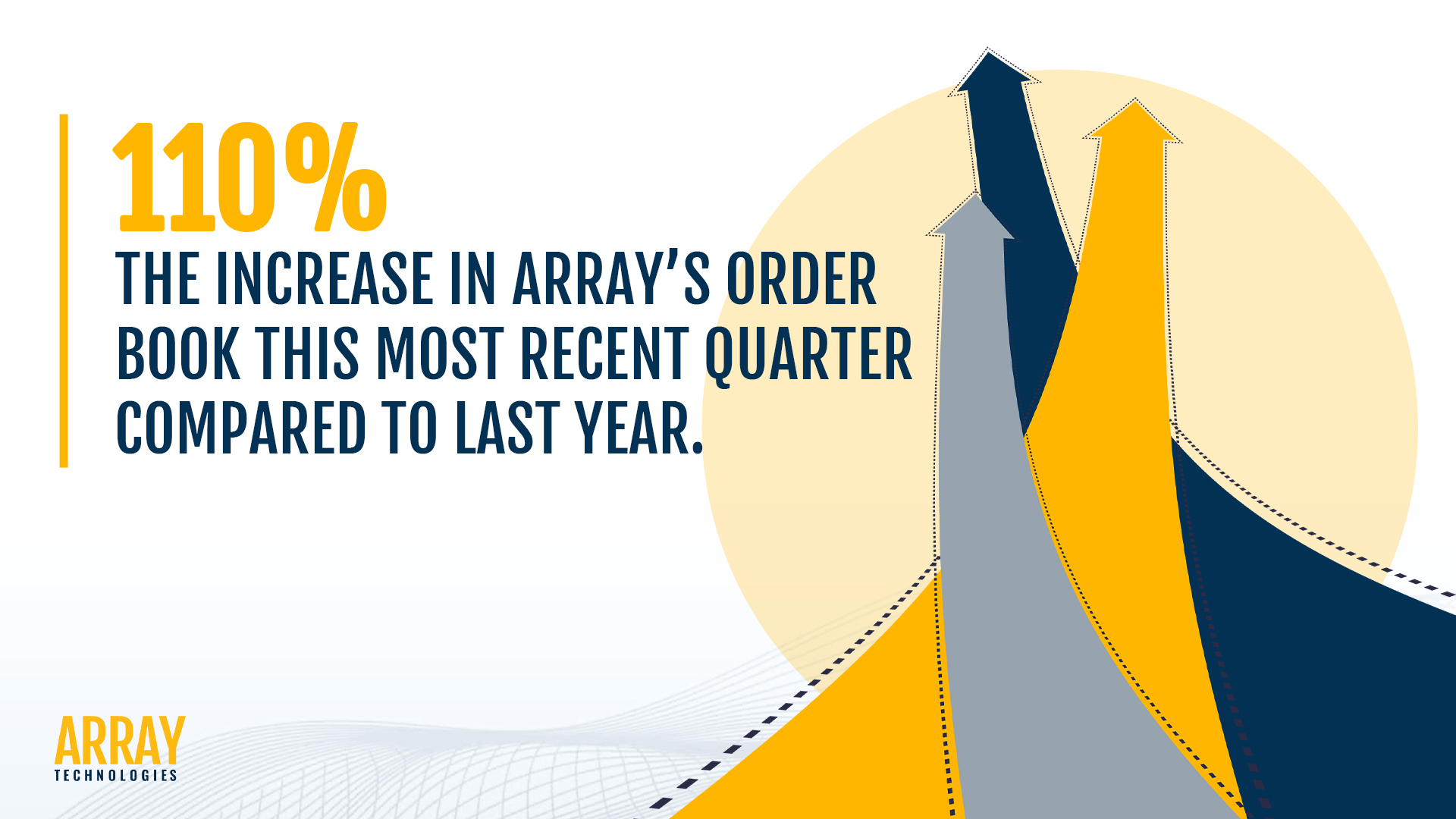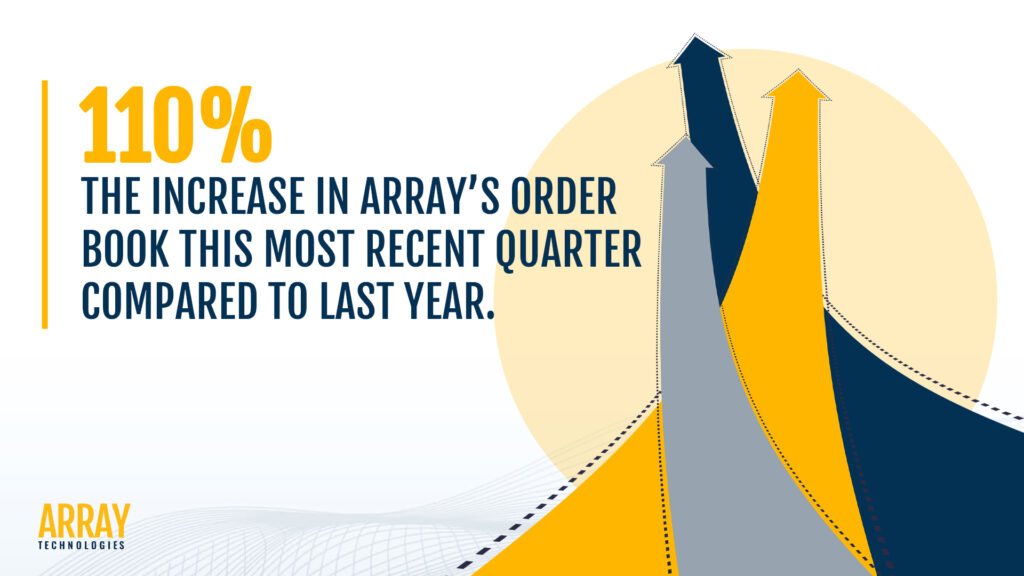 Expanding Global Teams to Meet Growing Customer Needs & Demands
Despite regulatory ups and downs this year, demand remained strong. In fact, we saw total revenue grow 116% and added over $200 million in new orders, ending the most recent quarter with a $1.9 billion order book, a 110% increase from last year.
Although there's always room for improvement in our working capital efficiency, overall, I'm proud of the work we've done and what we will do. And let me say again that I think Array has a rock-solid foundation to build from.
As a company with multiple products servicing numerous regions, we need to ensure our customers know whom to go to to get the right answers in a timely manner.
Since we manufacture little ourselves, we move a lot of materials from multiple suppliers directly to various customer sites at any given time. So, we must execute these orders in the most efficient, flexible, and predictable ways possible.
That's why we're continuing to round out a high-quality, experienced management team who know how to scale and run a large multinational, publicly traded corporation, including recently appointing Terrance Collins as our Chief Human Resources Officer. With more than 25 years of experience, he'll play a critical role in creating a strong, diverse, and unified global culture at Array that will attract, engage and retain the best workforce in the renewable energy industry.
We've also begun expanding the workforce in strategic areas like commercial excellence, commodity management, and logistics to ensure we are driving margin expansion and growth.
We have always had a strong focus on our customers. However, this is often done through extraordinary efforts and manual processes, which can sometimes be slow, frustrating, and exceedingly difficult to scale.
So, we're now focusing on a digital transformation that will create a streamlined experience with improved turnaround times on customer quotes, project design, shipment scheduling, and service appointments, to name a few.
All this while simultaneously providing enhanced visibility on project status and delivery directly to our customers.
So as I take a step back and look at the industry landscape, the term that I'd like to focus on is flexibility.
We're positioning ourselves to meet the additional demand as it comes while ensuring that our operational structure does not depend upon that volume. With our recent and continuing supply chain and logistics improvements, we're in an outstanding position to do just that.
As I write this, two things are clearer than ever, Array will have a special place in solar history, and we will continue to deliver on the needs of our customers.
Click here for other articles by this author