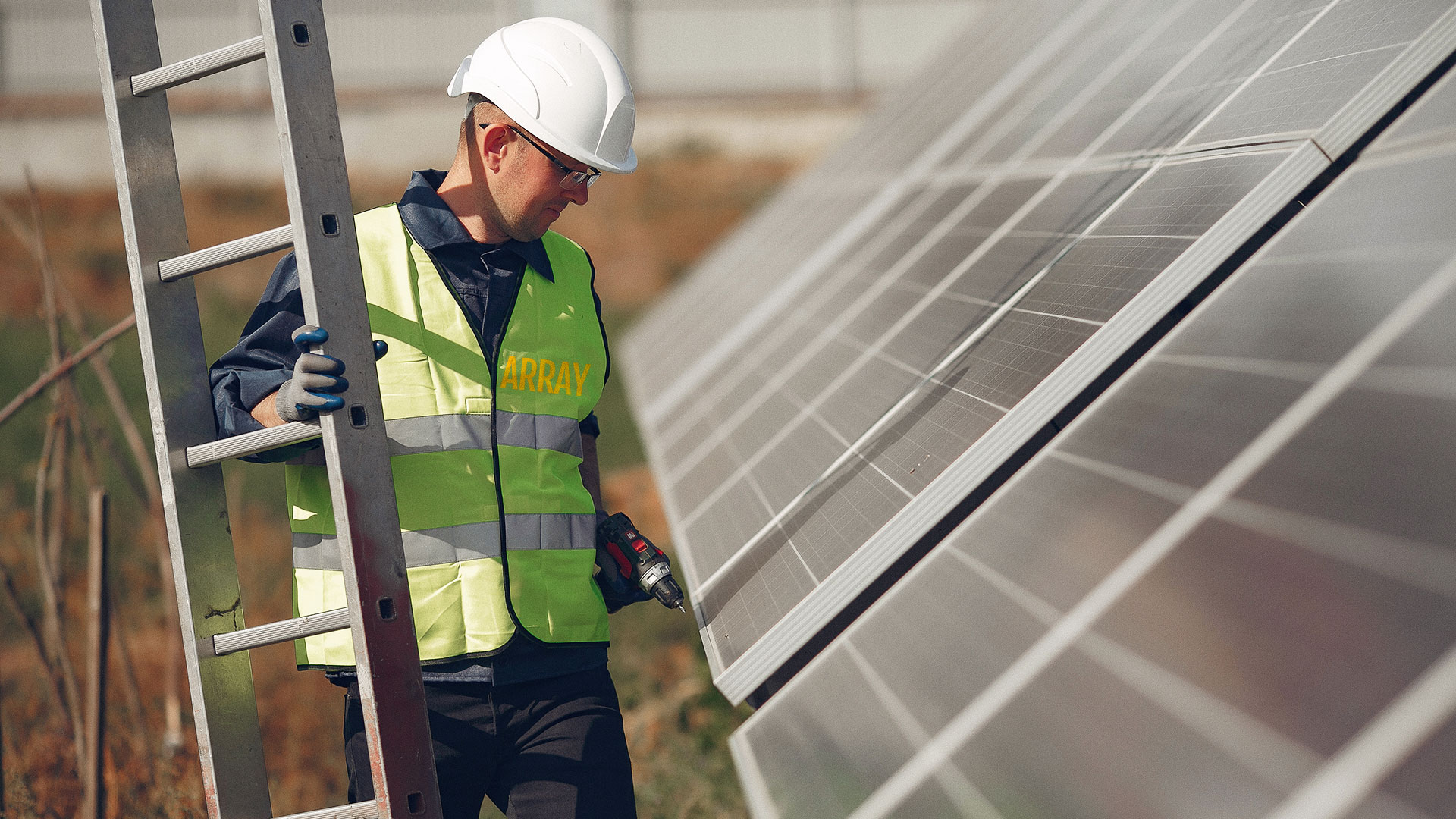 As the solar industry continues to grow and evolve, so does the demand for reliable and high performing solar trackers. With more options hitting the market and changing policies and regulations, choosing a solar tracker supplier that not only meets your project's technical requirements but also prioritizes local manufacturing and domestic content is vital.
From the start, Array has been strategic and intentional about building and maintaining robust domestic supply chains, which has allowed us to deliver consistent value to our clients and partners. This approach has proven to be a significant competitive advantage for us.
Global supply chains are only as strong as the weakest link. As we saw with COVID-19 disruptions, instability due to the invasion of Ukraine, and other geopolitical dislocations, the global supply chain was destabilized in recent years, causing logistical delays and bottlenecks worldwide.
During the height of disruptions, we all saw that, "landing costs"—the cost of sourcing key materials overseas plus the time and logistics it takes to ship product by sea to the United States—became extraordinarily expensive. So, while global supply chains faced ongoing challenges, Array successfully navigated these hurdles in large part, by prioritizing our domestic sourcing capabilities. Our clients and partners can trust that we will consistently deliver high-quality products and services.
Moreover, we need to be mindful that future global circumstances can bring a return to the disruptions we all experienced in recent years. Additional considerations, including the Inflation Reduction Act (IRA), that incentivize domestic productivity drive additional requirements. With our strategy and well-structured supply chain, we are confident that Array is positioned to meet the growing demand for procurement and supply.
We know customers have a choice when selecting a partner for their utility-scale solar projects. As you consider tracker suppliers, here are four questions you should be asking through the lens of the IRA and the state of the global supply chain:
 How much of your tracker is sourced utilizing domestic U.S. steel?
Does your tracker supplier have multiple U.S. domestic sources for key components to reduce and mitigate risks?
How robust is your tracker suppliers' ESG policies and are they able to supply green steel?
Does your tracker company partner with you to meet budget and ensure quality products and on-time delivery of a project?
How much of your tracker is sourced through domestic U.S. steel?
Provisions within the IRA seek to encourage greater reliance on U.S. steel, rather than foreign sources. Because of the strength of our supply chain providers, Array procures 85% of its steel from domestic sources—far higher than the target levels we expect the IRA to stipulate.
Does your tracker supplier have multiple U.S. domestic sources for key components to reduce and mitigate project risks?
When unexpected events happen, they create havoc and uncertainty throughout the supply chain. Relying on a single primary source for key project components creates significant risk that extends across cost and schedule horizons for projects.
That's why Array has worked to mature its supply chain to minimize single sourcing. We've built strong relationships with multiple suppliers for core components of our products. This allows us to scale capacity from trusted supply partners, which translates to greater certainty for our clients.
How robust are your tracker suppliers' ESG policies, and are they able to supply green steel?
At Array, we take immense pride in collaborating with a diverse set of partners who share our passion for clean energy and belief in environmental protection. These partners include leading U.S. steel producers equally committed to Environment, Social, and Governance (ESG) standards. Our strong partnerships allow us to primarily use recycled materials in the U.S., further solidifying our commitment to sustainability.
These high-profile relationships emphasize our commitment to supporting domestic industries and showcase our strategic diversification, ensuring that we are not solely reliant on a single source. This reinforces our supply chain resilience while enhancing our capacity to deliver on our ESG objectives.
Furthermore, our partners deploy cutting-edge techniques, such as the Electric Arc Furnace technology. This modern method enables significant reductions in emissions, ensuring the steel we source supports our business objectives and aligns with our core environmental values. Hence, we are proud to say that our steel sourcing strategy is robust and environmentally conscious.
Does your tracker supplier partner with you to meet your budget and ensure quality products and on-time delivery of a project?
Array believes in a transparent approach to pricing. Our team keeps a close eye on economic trends that affect the cost of the materials we use for our projects. We share this information with our customers in real-time so that they can stay informed about the state of the steel and aluminum industries and understand how it might impact their project costs.
And Array is ISO certified, which ensures products are going to be consistent and high-quality, project over project and year over year. This provides a layer of insulation against potential disruptions—and enhances the ability of clients' projects to hit timeline delivery targets.
Array's Commitment to Strong Supply Chains and Trusted Partnerships
It's more important than ever to have strong and robust supply chains and work with partners committed to doing well by doing good. A tidal wave of new industry projects is coming that will increasingly require domestic sourcing of materials. This is thanks largely to the IRA, with its ten years of investment tax credits and regulatory certainty for renewable energy production. Because of our significant head start on strengthening domestic supply chains, Array has staked out a strategic and competitive advantage in the marketplace.
We're grateful for the strong collaboration and trusted partnerships we've developed with source suppliers. Array has diligently worked to align manufacturing capacity to meet our customers' needs. A strong and robust supply chain built on relationships with multiple sourcing partners will continue to set Array apart and better serve the needs of our industry in the future.
Click here for other articles by this author