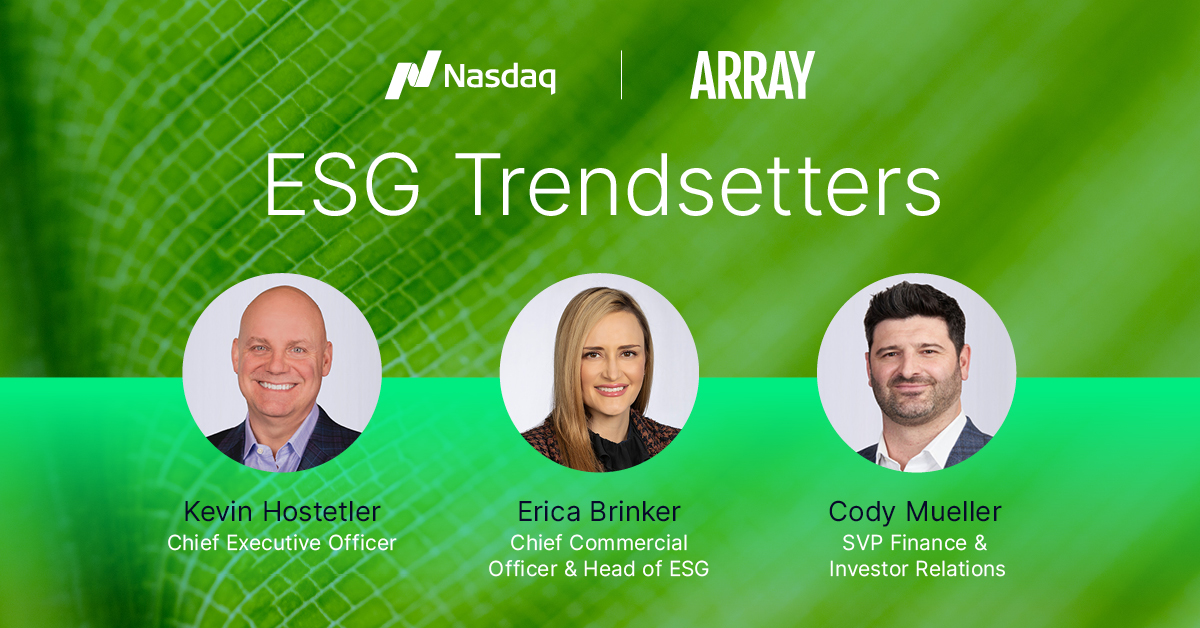 Summary:
Array Technologies joined Nasdaq's "ESG Trendsetters" video series to share what ESG means to our company
Spotlight Array's rationale and execution of its ESG strategy and the leadership behind it
Counter confusion and opposition by describing why ESG matters and how it works
When Environmental, Social and Governance (ESG) emerged as an investing framework, it was misunderstood by some as simply a fleeting trend, but it is here to stay. For many publicly-traded companies, including Array Technologies, it provides transparency for financial stakeholders – ranging from shareholders and customers to banks and insurance companies – to assess risks and potential rewards.
Our ESG reporting shows how we, as a renewable energy company, walk the talk on environmental responsibility when it comes to how we source materials and manufacture our products, which literally underpin utility-scale solar arrays. ESG reporting also holds us accountable to investing in our greatest asset: our employees.
We hope the current anti-ESG backlash fades as more people come to understand what our stakeholders – customers, investors and employees – already know: applying the fundamentals of investment analytics can provide a clearer assessment of value.
Whether or not ESG data is required by any regulatory framework, Array will continue to provide ESG reports. They offer visibility into our business so that our stakeholders fully understand how we allocate capital to help solve the climate crisis with solar innovations. Likewise, ESG reporting commits us to diverse talent which allows us to optimally operate in each of our global markets with deep knowledge and various viewpoints.
To be sure, some ESG metrics may need refinement, as illustrated by debates surrounding Scope 3 emissions measurement accuracy, for example. ESG benchmarking and raters will continually improve.
Higher Calling or Standard Operating Procedure? ESG is Both
For Array, ESG is naturally integrated with our core competencies and best practices.  We know a company can perform well in business with ESG. We proudly live it every day.
As the focus on ESG intensifies, Nasdaq's ESG Trendsetters series looks to highlight the top ESG professionals and teams around the world to discover how they are incorporating ESG factors into their corporate strategy, achieving meaningful impacts, and communicating with their stakeholders.
Our leadership recently met with Nasdaq to share our viewpoint for why ESG matters and how it's integrated into our business and culture.
It's no accident our ESG is led by our Chief Commercial Officer, Erica Brinker. Our ESG objectives are intractably linked with our commercial goals. Improving the sustainability of our products and supply chains helps our customers and revenues. Our entire business strategy is aimed at climate action and facilitating the global energy transition.
Governance is the driver to ensure the social and environmental goals can be accomplished. Our board's Nominating, Governance and Social Committee includes four members of the board, including Chairman Brad Forth. The duties and responsibilities of all board members, including CEO Kevin Hostetler, upholds the promotion of long-term sustainable growth, which considers the social and environmental goals of the company.
Our ESG Journey
Array's 2021 ESG report included our first materiality assessment as we engaged stakeholders to help guide our ESG priorities. The report included 2025 goals with the following highlighted commitments for:
Environment:

Deliver components to support an additional 90,000 MW of solar power
Reduce direct emissions intensity 30% from baseline year 2021
Source 50% of direct energy consumption from renewable energy sources

Social:

Increase total workforce representation of women by 10% from baseline year 2021
Increase non-executive management racial and ethnic minority representation by 10% from baseline year 2021
Increase board representation of women 22% from baseline year 2021

Governance

Fulfilling the Nasdaq's Board Diversity Rule
Continuously evolving and adapting our Cybersecurity Framework's security architecture, resiliency, response and recovery processes to meet persistent and growing threats.
Updated Conflict Minerals policy to ensure our suppliers adhere to our high ethical standards and keep our supply chain
Commitment to expanding GHGs inventory beyond Scope 1 and 2 emissions to incorporate Scope 2 supply-chain emissions
Array aims to increasingly provide sustainability benefits for our products. For example, we have an agreement with Nucor to buy torque tubes and rolled steel produced with recycled steel. These materials are used by Array to produce clamps, foundations and brackets, and other tracker components. Similarly, in 2021, our use of recycled aluminum at our Albuquerque increased by 11.8% to 3.5 million pounds.
Our 2022 ESG report to be published in Q2 will show further progress. ESG goals are not set arbitrarily. We reference the metrics of the Global Reporting Initiative and Sustainability Accounting Standards Board for stakeholders to clearly recognize our contributions within the broader ecosystem of ESG. These also serve as baseline metrics to identify growth opportunities and achieve results against objectives.
Customers rightfully want assurances our products are manufactured and distributed with the most environmentally preferable means possible. Investors want to see how we are increasing revenues while providing crucial components for renewable energy expansion. Demonstrating these commitments is also key in attracting and retaining talent. ESG benchmarks give everyone clarity on what we are doing and where we are going as a business.
As a renewable energy company, we believe we are held to a higher standard for ESG. What started as an investment management framework for risk assessments has evolved into an integral structure for business growth and integrity. Array is proud to be a company rooted in and expanding with ESG.
Click here for other articles by this author